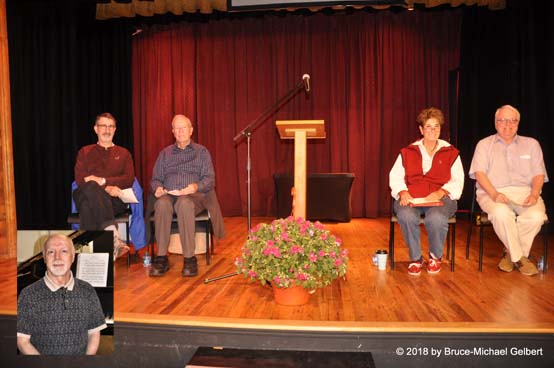 photos by Bruce-Michael Gelbert

(left to right) Richard Schack, Roland Michely, Diane Romano & Thom "Panzi" Hansen (inset: pianist Gene Rohrer)

.......................................................................................................................................................................................
On May 28, Grovites remembered our losses at a moving Memorial Day Service, at the Community House, organized annually by Roland Michely, who opened the afternoon with welcoming remarks. Speakers, beside Roland, were Diane Romano and Thom "Panzi" Hansen, Presidents of the Cherry Grove Community Association, Inc. (CGCAI) and Arts Project of Cherry Grove (APCG) respectively, and Richard Schack, of the Memorial Fund.
Pianist Gene Rohrer played Claude Debussy's comforting, flowing song "Beau Soir," at the start of the afternoon, and Edvard Grieg's contemplative "I Remember," near the end of the service.
Diane began, "How wonderful it is to be a part of Cherry Grove, how special it is." She spoke about the origins of the holiday, as Decoration Day, memorializing service people lost in the Civil War, and thanked members and veterans of the military for putting their lives on the line. She closed with the poem "Never Forgotten."
Thom remembered his cousin, who died suddenly, recently, having been hit by a truck. He noted the election, the previous evening, of Rose Levine as APCG's 70th anniversary Homecoming Queen and quipped, "Who would have ever thought a Panzi would crown a Rose?" He read a poem beginning, "I'm free, don't grieve for me, for now I'm free."
Inspired once again to read words by Thornton Wilder, in which he had found comfort at past Memorial Day Services, Richard returned to Wilder to quote from his character Dolly Gallagher Levi, created for the play "The Matchmaker," who became the protagonist of Jerry Herman's "Hello Dolly." Richard read us the opening words of the song "Before the Parade Passes By."
Roland remembered the departed, who included: John Bogetti, Clara's brother; George Brescia, Sr., father of George Brescia, who is John "Sybil Bruncheon" Burke's spouse; Bea Clark, who died at age 97; Michael DeSantis, nephew of Dominic, originator, with the late Dr. Charles Whipple, of these services; Ellen House, mother of Tommy "Tush" De Mastri; Lisa Jacobsen, who had been Joyce Yaeger's partner, directed "Last Summer at Bluefish Cove" for APCG, and was an original cast member of the play "Hot L Baltimore;" beloved pianist Jean-Pierre Lemarié; pianist Ken Lundy, partner of the late Dennis Clapton Daniel; Rita Lichtenstein, veteran of Fire Island Pines Arts Project theatrical productions; John "Giovanni" Mussara; Juan Punchin, partner of Jimmy Morello and of the late Robert White; Priscilla Quinn, mother of Jack; Bill Strumlauf, of the Cherry Grove Fire Department (CGFD); Janice Szychowski, partner of CGFD's Laura Ann Giusto; Harold Weinstein, who was a waiter at the Monster; Sammy Williams, dancer, who won a Tony® Award as an original cast member of "A Chorus Line" and danced in an APCG "Golden Girls" show at the Community House; Edie Windsor, Marriage Equality icon, who was the Cherry Grove Pride Parade Grand Marshal in 2017; Bob Younger, fisherman, who bartended at APCG events; and pets Charlie, Jackie Presti's dog; Om, Robin Byrd's dog; and Maggie, Donna Bianco and Jacqué Piazza's dog.
The service concluded with a moment of silence and the greeting of our neighbors.