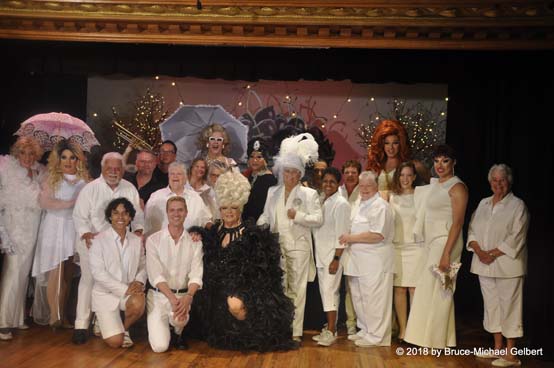 photo by Bruce-Michael Gelbert

70, Girls, 70 cast

.......................................................................................................................................................................................
The Arts Project of Cherry Grove's (APCG) 70th anniversary theatrical season, at the Nationally Registered Historic Community House, got off to a fantastic start with a celebration, "70, Girls, 70," directed by Thom "Panzi" Hansen, and featuring favorite veteran thespians and new faces alike, in memorable star turns. Past APCG shows were revisited, departed friends were remembered, and newcomers were welcomed, strutting their stuff. Eric Martin was the Musical Director, leading the cast and musicians Mary Rodriguez, on percussion, and Luther Wong, on trumpet. Matt Baney and Alison Brackman were upstairs in the tech booth.
After Panzi's introduction and Diane Romano and Matt Baney's cameo appearance, playing APCG founders Helen Ely and Earl Blackwell, John DeMarco, Gay Nathan, Ruth and Susan Freedner, and Rose Levine, giving their birthdates or not, and soon joined by the full cast, sang a tribute to "Old Folks." Chris Bell made his APCG debut singing and dancing a powerhouse "All I Need Is the Girl," from "Gypsy." Sporting a big picture hat, Gay Nathan gave us a most delightful rendition of Liza Lehmann's "There Are Fairies at the Bottom of Our Garden," with some choice bawdy interpolations, such as "Fairies at the bottom of your garden are much better than crabs at the bottom of your bush," and later, as Gertrude Stein in a Picasso blouse, offered a trenchant monologue, from "Gertrude Stein and a Companion," about Ernest Hemingway, a Stein protégé, who turned against her. Backed by Chris Caswell, John DeMarco, Chris Bell, and Suzanne Rayson, Rachel Hundert delivered a lilting "Look for a Sky of Blue," from past APCG hit "Little Mary Sunshine."
The Freedner sisters contributed a quick walk-on, portraying Louis Prima and Keely Smith. Ariel Sinclair, assisted by Michael Moran and Matthew George, recreated cheerful signature song "(My vagina is) Eight Miles Wide," once thought scandalous. Bella, backed by the Chrises and Sue, became the image of Carmen Miranda—borrowing the voice of Judy Kaye—for "Weekend in Havana," which she performed in "You Go Girl!!" 20 years ago. Homecoming Queen Rose Levine rolled back the decades, singing "Good Times Are Here to Stay," from "Dames at Sea," once more.
Cabaret singers Chris Caswell and John DeMarco sang "My Man" and "Can't Help Lovin' That Man (of mine)" in striking counterpoint. Kay Davis, Joann Orfanos, Sue King, Suzanne Rayson, Ruth and Susan Freedner, and Joan Van Ness paid tribute "To All the Girls I've Loved Before," as images of the likes of the departed Jeanne Skinner, Miss Carmen, Lois McIntosh, Jackie Petersen, Benay Philips, Marge Cozzolino and Saja Lee, Barbara Mancuso and, finally, Maggie McCorkle appeared in a slideshow. Saluting the late Teri Warren, who appeared on screen performing a burlesque number, on the Community House stage, with Eric, Mary, and Luther providing aptly raucous musical accompaniment, Demi-Tasse, a vision in red, then paired "La Cage aux Folles" numbers "A Little More Mascara" and "I Am What I Am." Panzi became Julia Child, cooking a chicken, as she had in "Direct TV," 18 years ago, and capped the scene with the song "I Can Cook, Too." Panzi referred to her birds as "a peep of chickens," which called to mind another group designation, "a congress of monkeys," which reminded her of "this administration."
Doris Dear belted out "Stairway to Paradise," which we once sang in "Crazy for Gershwin." Rachel sang a hot "Come Rain or Come Shine." John caressed lines of "Old Devil Moon," which he paired with "Witchcraft." Victoria Falls' solo was a zesty "I See Stars," from "Mean Girls." Logan Hardcore punctuated "Kill the Lights" with high kicks, a split, and a death-defying leap off the stage. Ariel followed these with "Call Me Crazy," a wacky "Call Me Maybe" parody, with "Lord of the Rings'" Gollum quoted a couple of times. Bella and Demi, as "War Paint" rivals Helena Rubinstein and Elizabeth Arden, reminisced about "(When there was) Beauty in the World," and the full cast returned to send us off with "Put on Your Sunday Clothes," from "Hello Dolly," with "We won't go home because we love the Grove!" as the pertinent closing line.