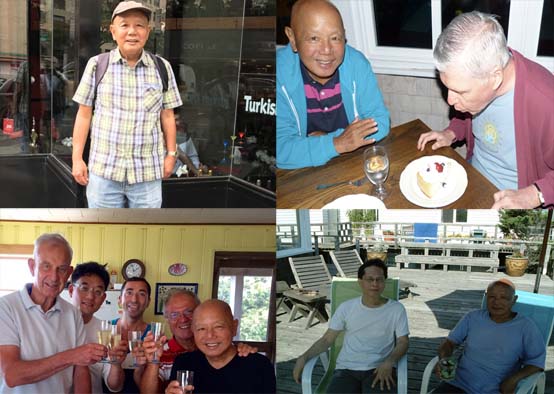 clockwise from top- Juan Punchin near his NYC apartment Sept 2017 (photo by David Longmire), Juan treating weekend guest David Longmire at Island Breeze- Summer 2012 (photo by Gil Quito), Juan Punchin & weekend guests at Olay, Summer 2015 (left to right) Eric Thirer, Lengya Cheng, Salvatore Arancio, Jimmy Morello, Juan (photo by Eric Thirer), Juan & guest Gil Quito at Olay, Summer circa 2010 (photo by Gil Quito)

.......................................................................................................................................................................................
Juan Punchin, of New York City, Cherry Grove, Puerto Rico, and France, died on November 17 from unexpected complications from heart valve surgery. For over three decades, Juan was a regular summer resident of Cherry Grove, and through him, Fire Island became a destination for a wide and international network of Juan's friends and relatives. A long weekend at his beachfront house, with its flower-fringed weather-beaten deck overlooking the Atlantic and its direct access to the sea, became an annual highlight for many, like childhood Christmases and Easters, and as eagerly anticipated and tenderly recollected.
Way before the start of summer, Juan would initiate the annual visit with a call from his New York apartment to determine which weekend would be best for the particular friend, especially for someone coming from another state or country. His calendar would soon fill up, with each and every weekend accommodating a different set of guests. Unless someone preferred to get to Fire Island on one's own, Juan would pick a guest up at a suitable point in Manhattan. The laughter and conversation about personal and world affairs would flow during the drive to Sayville and ferry ride to Cherry Grove, and thus would begin his annual Fire Island treat.
Juan, who maintained homes in Manhattan, Fire Island, Puerto Rico and, until he sold it a few years ago, Nice, was known for his open-hearted generosity, wherever he resided. In New York, he would invite me to events like a recital of Russian songs or an obscure Verdi opera that I hadn't even known existed, "Oberto,Conte di San Bonifacio." For a short film that I was producing, Juan readily assented to letting his Peter Cooper Village apartment stand in for a patrician Upper East Side townhouse. Not only did he refuse rent, he also prepared coffee and refreshments as the crew set up tripods and lights in the next room.
But nowhere was Juan's largesse more on display than on Fire Island. For those who stress out over preparing the occasional dinner for guests, Juan's decades-long tradition of serving and cooking breakfast, lunch, and dinner, week in and week out through the entire summer, for different sets of guests, could sound positively daunting. However, Juan himself would work with characteristic cheerfulness and ease, as he created the communal moments of relish and camaraderie over pasta or ratatouille, when the air grew thick and fragrant with personal stories and aspirations from lands faraway and near, New York City, Chicago, Spain, China, England, Istanbul, Egypt, Mexico, and even Transylvania.
Juan had a huge collection of flags, which he had accumulated during his extensive travels. He would fly flags, most associated with his guests, from the three flag poles that stood, guard-like, around the decks. The flags would join others, flying all along the beachfront, in a jubilation of banners, displaying the stars and stripes, the rainbow colors, and emblems of countries around the world, some of which looked so unfamiliar, that we would have to poke around the web in attempts to identify the flag, upon getting home from our stroll to the Pines and back.
Favorite features of Cherry Grove include the plaques, with whimsical names, identifying each house. One of the more memorably named is La Dolce Vita, with its reference to the Fellini film, and even more so, to the sweetness of life, the opening of the senses, that seemed to permeate the boardwalks of Cherry Grove, with their flanking reeds and overhanging summer flora, animated by passing day trippers and residents, several of whom would stop and chat with Juan or, in more recent years, his partner Jimmy Morello, exchanging the latest gossip or plans over an upcoming event at the Ice Palace or the Community House.
The name emblazoned in front of Juan's seaside cottage was Olay. According to Juan, this was already the name when he and his late partner Bob White, a Harvard-educated historian and international educator, bought the house in the early 1980s. They personalized the house through the years with tiles, carvings, pictures, souvenirs and novelty pieces featuring the bull, thereby overlaying the name Olay with a rhyming reference to the shout most often emitted in the Spanish bull ring, "Olé !" Working as a chief financial officer for MetLife at its Mexico and Madrid offices, Juan would bring back colorful ceramics and tiles from Latin America and various parts of the Mediterranean. Juan mixed in drawings, photographs, and paintings created by the local Cherry Grove artists whom Juan liked to support. The objects glistened and resonated in Victorian amplitude, and the laughter and chatter ranged so far and wide, that a stay at Olay often felt like a European idyll, which I would always tell Juan at the end of a visit.
It was usually on Juan's seaside deck or strolls along the surf that Juan and his guests would try to find out more about each other. It was then that they might have learned from Juan that his parents emigrated from China to Peru, shortly before he was conceived. They made a living by setting up a custom clothing business in a provincial town. They valued education so much that they focused all their frugal resources on sending Juan and his siblings to schools in Lima and, later, the United States. Juan sometimes recalled with amusement his appearances as a guest math whiz on some Peruvian variety television show. After college, as a scholar at Yale, his work for MetLife, and assignment at its Madrid branch, set the stage for his extensive travels in Europe and beyond. His multi-layered background resulted in a strikingly unique personality that could only be Juan and nobody else: a mix of Peruvian modesty and gentleness, Chinese pragmatism and acuity, American openness and optimism, and Old World discretion, savoir faire, and freedom from sentimentality.
Walking around Cherry Grove with Juan was an invigorating, edifying experience. His generosity and affable openness drew out similar qualities from the residents and visitors that we would encounter and chat with. He accorded the same graciousness to those whom others might dismiss or ignore as not worth their time: someone reeking of cigar smoke and shunned, a white-haired man bulging out of his leather shorts and vest, a humble Colombian migrant worker, a woman almost as broad as the boardwalk, a man hobbling on a cane on his way to the Meat Rack, a skinny refugee from the self-delusions of Pines, or a faded drag queen dreaming of better times. Time with Juan felt like being with a fellow traveler on an open-hearted adventure, a companion who traveled light, free of any burden of ill-will, malice, or conceit. Juan was truly one of a kind. And I feel that, somewhere inside of us, we can find a fortunate, halcyon sky, once seen over Fire Island, which shines as luminously as Juan's nature and life.
Other friends and relatives have shared their memories of Juan
From Robert Neill and Norman Solkoff, London and Villefranche sur Mer:
Like everyone who knew Juan, we were stunned by the news of his unexpected and tragic passing. We have so many wonderful memories of him over the years, in New York, London, and Nice. He was always such a gentleman: thoughtful, caring, and polite. A bit of gossip was met by, "Oh no, surely not," with a twinkle in his eye, perhaps hoping for more! One of the highlights of our visits to New York was lunching together and we'll really miss him. Our thoughts are with his family and Jimmy.
From Eric Thirer, New York City and London:
I knew Juan since 1981. Sadly, we lost Bob about 10 years ago. I recall so many good times spent with Bob White and Juan.
Juan Punchin: humorous; kindness itself; generous beyond reason; superbly polite; helpful; never known to be hostile or argue or lose his temper. He was a very private person, with no axes to grind or chips on his shoulders, a fabulous host, especially at Olay, and an excellent cook! He was also a solid appreciator of the arts; theatre; music; movies, and more.
We will all remember Juan for most, if not all, of the above, and for his countless other attributes, which we will have experienced in our own private and individual ways.
From Carl Petry, Chicago:
With regard to fond memories associated with Juan, there are so many, since our friendship extends back more than two decades. One stands out. Before gathering for our annual visit to Olay in Cherry Grove, I would arrive in NYC a day or two early to catch up. About a decade ago, a friend of mine here in Chicago had a showing of his paintings in a gallery in Chelsea. Juan and I decided to head over—on foot. We walked across lower Manhattan to the West Side; viewed the paintings, all focusing on NYC bridges, as the artist was noted for these; and then walked all the way back. We would go on a mini-adventure of this sort every time I came to visit. I owe my knowledge of lower Manhattan topography largely to these jaunts. I had an expert guide.
From Jorge Punchin, Juan's brother, San Juan, Puerto Rico:
My eldest sister Lily was the first to study in the United States. She attended Connecticut College for Women in New London, Connecticut. Shortly thereafter, Juan was awarded a scholarship to go to Yale University. In the year that he graduated from Yale, I left Peru to study at Lafayette College on a scholarship. My sister Lilia studied and worked in Lima, and then got a corporate job and settled in Toronto. My brother was instrumental in helping us all. He was always present and willing to help and guide us in life.
From David Longmire, New York City:
I met Juan Punchin about 10 years ago, and we became the dearest of friends. We met once a week for lunch or dinner during all the time we knew each other. He was so special that it is very difficult for me, as it surely is for others, to imagine that he is gone. Juan was one of the kindest, most generous, intelligent, gentle, loyal, amusing men imaginable. I will never cease to miss him.
From José Punchin, Juan's nephew, San Juan:
When my grandparents migrated to Peru from China at the onset of World War Two, they established a tailor, dressmaker and custom sewing business in the town of Ica, Peru. Uncle Juan was born in Ica, but attended elementary and high school at the American School of Lima, where he was valedictorian. After my grandfather suddenly passed away, Uncle, still a teen, became the father figure in the house. Uncle was the brightest and was able to earn a scholarship at Yale. He was an example to his siblings and always knew that education was the key to a better future. My Dad and Aunts followed his lead to pursue the American Dream.
Uncle helped put me through Lafayette College, which, as a private institution, was very expensive for me. He believed in me and helped with my tuition and room and board. I owe him my career as an engineer. More than helping me financially, he always coached me and provided sound advice, well after I had graduated and was trying to decide on midcareer paths.
While at Lafayette, I remember him visiting me during Family Weekend to see the Pards beat the Princeton Tigers. He didn't like football, but loved the final score. He was the only family for me, thousands of miles away from home, and I was just happy to have him there.