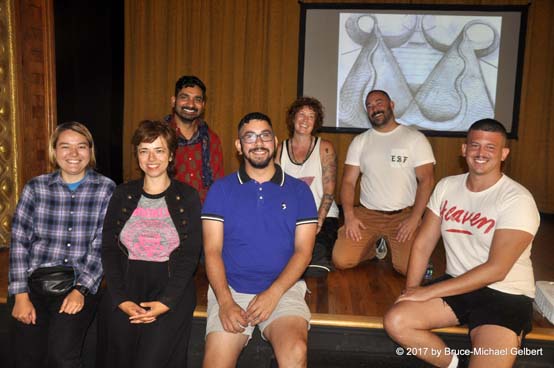 photo by Bruce-Michael Gelbert

(left to right) Marta Lee, Elizabeth Insogna, Charan Singh, Rodolfo Marron III, studio manager Jesse Harrod, director & co-founder Chris Bogia, & Vincent Tiley

.......................................................................................................................................................................................
The seventh annual, four-week Fire Island Artist Residency (FIAR) in Cherry Grove officially began with the introduction of the five 2017 artists at the Community House on July 24. Supported by the Arts Project of Cherry Grove (APCG) and the New York State Council on the Arts, FIAR is, according to Director and Cofounder Chris Bogia, the first residency in the country exclusively for emerging LGBTQ artists, with residents chosen, by a panel of judges, from among hundreds of applicants worldwide. Coordinators are Bogia and Studio Manager and 2016 resident Jesse Harrod. The artists are Elizabeth Insogna from Brooklyn; Charan Singh, originally from New Delhi, India, and associated with the Royal College of Art in London, England; Marta Lee, from Maryville, Tennessee, now living in Austin, Texas; Rodolfo Marron III from Kansas City, Missouri; and Vincent Tiley from Brooklyn. They will participate in the APCG Art Show, which is slated for August 5 and 6, at the Community House.
Insogna works in acrylic and ink, sometimes with oil overlay. Her comment on Fire Island was, "This is one of the most magical places that exists." Her interest is in "the Divine Feminine" and she showed us ancient images, including of "transformative figures" Kali and Medusa, which have inspired her. Talismans, which she has made, and rituals inform her work, which incorporates images of serpents, sexuality, and the Atlantic Ocean.
New to Fire Island and its safe LGBTQ spaces, Singh considers Queer Language, Landscapes, and Legitimacies in his work. He juxtaposed a 4,000-year-old cave painting of Buddha with a photographic self-portrait as a comment on which figure is seen as masculine and which as feminine. He takes pictures of the Kothi, nomadic men from the slums, who are MSM, men who have sex with men, and are sometimes HIV-positive, who are not often photographed in a positive light. He showed us a map of Asia and Africa, pointing out the places, including India, where homosexuality is illegal, to introduce his photos of cruising grounds in India, where the men cruising appear to be "under the spell of supernatural powers."
Also new to the Island, Lee commented that it is "nice to be in a place that is accepting of all people." Her work incorporates printing and painting. Her "Anticlimactic" appears to depict a bed, but does not. Her "Court(yard)" imagines an aerial view of a place on the University of Texas campus, showing the Texas and American flags. Her "Grandma's Tablecloth" is a print based on a drawing that she did of her grandmother's tablecloth. "Same-Shoe Couples" shows shoes that couples share. Lee used Xerox to repeat the images, and took away the copy paper, leaving just the ink. Her "Self-Portrait" has her painting of her calendar watch, at the top, but leaves a void below, in the middle.
Coming here from another residency in New York State, Marron is experiencing the east coast for the first time. He used to use natural pigments, but now employs photographs and glitter and other appliqués. He displayed work under the title "La Familia de Mala Suerte" (family bad luck), as he considers his family to be cursed. Aware of his isolation as an artist, he has documented his 'cursed' family in photos. He contrasted himself with his sister, also an artist—he received a $10,000 grant and she is incarcerated—and appliquéd a childhood picture of her with images of red flowers. He "shrouded" a picture of his mother with metallic-looking armor and, in "El Mojado" (the wetback), used a photo, the only one he had, of his brother as a baby—his brother has now been deported. In "Paz in el Barrio" (peace in the hood), Marron is documenting the Mexican neighborhood in Kansas City.
In his work, performance artist Tiley depicts "queer bodies" and "queer garmenting"—"what we adorn our bodies with." Artist and AIDS activist Hunter Reynolds is one of his mentors. In "Scorpions," on which he collaborated with jeweler Chris Habana, three performers wear underwear and masks that Tiley made and two share a two-person brass-and-leather ball gag that Habana made. "The Velveteen Faggot" is a black velvet, studded jacket, not meant to be worn, "a garment that is also a painting." Endurance came into play when Tiley danced for 24 hours, sustained only by Gatorade. This summer, Tiley is attempting to recreate Indian yellow, a Victorian English pigment, ostensibly made from the urine of cattle in Calcutta—or not—and "relate that to a queer sense of history." He will collect human urine here, document its collection in photos, and paint with the resultant pigment.
Remaining FIAR events, at this writing, at the Community House at 7 pm, unless otherwise noted, are a talk by artist, trans icon, and "Transparent" producer Zackary Drucker, on July 27; Baby Tea, with FIAR and Dauphine of Brooklyn Tyler Ashley, a benefit for FIAR at Island Breeze on July 29 at 4 pm; talks by artists Carlos Motta and John Giorno on July 31 and August 3, respectively; a FIAR and Visual AIDS presentation by Luna Luis Ortiz about the 1980s vogue ball scene on August 7; Liz Collins and John Chaich's talks about work in textiles, on August 10 and 14 respectively; and a farewell reception and mini-exhibition on August 16.