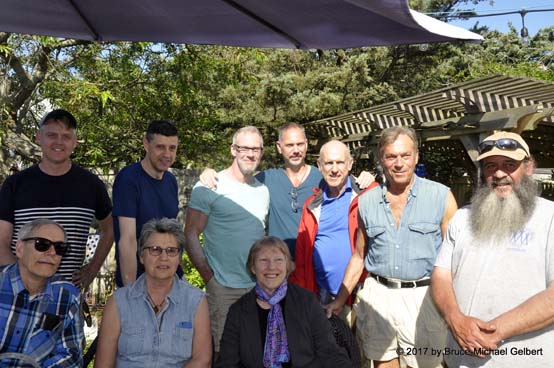 photo by Bruce-Michael Gelbert

Artist Tour group (seated, left to right) Dan Evans, Aronda Xystris & Susan Ann Thornton(standing, left to right) Chris Bendixen, Koitz, Patrick Loy, W. Douglas Topper, Martinu Schneegass, Warren Boyd Wexler & Mark Atten
.......................................................................................................................................................................................
The Fourth Annual Artist Tour of Cherry Grove, organized by painter Susan Ann Thornton, took place on June 10 and 11, and 14 artists participated, displaying, discussing, and selling their work at their homes. Susan Ann works in acrylic and water-soluble or aqua oil on gesso board and canvas. She showed her paintings of Cherry Grove, almost all of them painted here.
W. Douglas Topper displayed his oil paintings. Though he usually paints serious subjects, among his newest works are a cow, held aloft by balloons, and a chocolate bunny. His exhibit included male nudes and drag personalities and works inspired by Fire Island, such as Belvedere Guest House gate and paintings of beach glass.
Dan Evans mostly paints Fire Island scenes, with depictions of Belvedere, the sunset, and the Sunken Forest among his most recent works, dating from last summer. He also showed scenes of Toledo, Spain, St. Bart's in the Caribbean, and Malibu, California.
Louis Nelson works in water color, acrylic, digital, and oil. He has painted scenes of Cherry Grove, Sailors Haven, and Sunken Forest. One of his paintings is of Sand Castle restaurant when it was still Jumping Jack's Seafood Shack. Another is of the Galveston, Texas pier, near where he grew up. He also does work inspired by images in books, on television, and on line.
Patrick Loy, new to oil painting, showed his Fire Island scenes, including flowers in cement pots with the Greek key design, which were on his deck, and a gilded version of the white canvas hat that he was wearing. Bill Hirt, his friend and housemate, makes jewelry incorporating Fire Island beach glass and seashells.
Michael Fitzgerald has moved away from the erotic collages that he used to make and more toward abstract painting. The theme of Michael's paintings is "Orbit" and he calls himself "a green artist," using acrylics, oils, and so on, usually leftover house paint that people have given to him, on boards, driftwood, and so on that he has found here. Life partner Bob Levine inspired a work of his, incorporating a bicycle license plate that reads "Rose, Fire Island."
Aronda Xystris' works are "photographs and paintings, in that order." She frames all her work herself, with wood that she finds on the beach here. She shot a photo of the Main Walk ramp to the beach for her business card and then painted the same scene.
Koitz has been best known for his commercial work, photographing Daniel Nardicio's underwear parties and other events, but is moving more toward studio work, photographing the male nudes, which he displayed here, in his studio at his home in Williamsburg, Brooklyn. He incorporates props, such as flowers, hats, and mirrors, into his portraits.
Warren Boyd Wexler is well-known for his Fire Island Nature photographs. Post cards and note cards, featuring his work, are sold by many local businesses. Warren's most recent photo is of "Fox Pups," which he took in Watch Hill in March 2016.
Bob Lerch describes his work as "Fire Island scenic photography," with images shot in the Grove, at Watch Hill, at the Lighthouse, and of the Fourth of July Grove Invasion of the Pines, including some aerial shots.
Martinu Schneegass specializes in "images capturing Fire Island spirit." Marcel Duchamps' "Nude Descending a Staircase No. 2" ("Nu descendant un escalier n° 2") inspired Martinu's "Nudes Ascending a Staircase" ("Nus ascendant un escalier"), multiple photographs of an interracial gay male couple Photoshopped onto aluminum and varnished. He also displayed a collection of stones of different colors, found on the beach and polished to a fine sheen, and his next focus will be putting his art on t-shirts, on both front and back.
Mark Atten makes images in glass, of assorted colors, on wood. His subjects include fish, boats, and trees. Next, he plans to explore colored glass figures on clear glass.
Chris Bendixen is a ceramicist. His newest works are pots with a microcrystalline glaze. He also uses a firing technique called raku, originally Japanese. He does most of his work at home in Columbia County, New York, but makes copper wire chains here to embellish some pots, giving them something of a beach or nautical look.
Look for some of the artists' work at the Arts Project of Cherry Grove Art Show, at the Community House, on August 5 and 6. And watch for announcements of the 2018 Artist Tour of Cherry Grove.