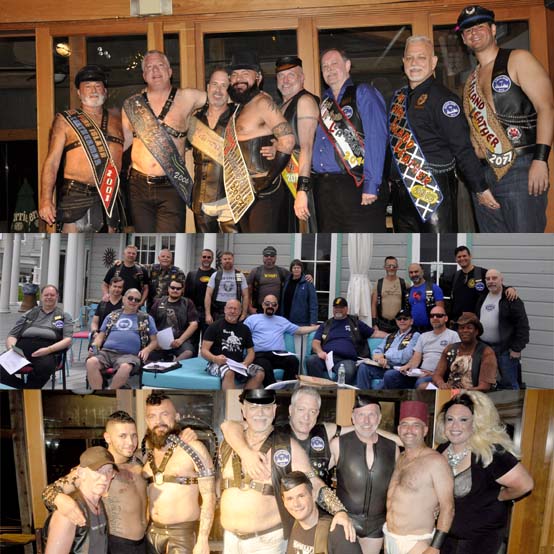 top- Messrs FI Leather 2001 Bruce-Michael Gelbert, 2004 Jeff Goodman, 2005 Joseph Saporito, 2007 Digeo Vargas, 2012 Mark Nayden, 2014 Victor Skolnik, 2015 Edd Clark & 2017 Sir Joseph- photo by Joe
middle- AMCC at Belvedere, President Ed Caraballo (standing, center, with motorcycle cap & sunglasses) - by Bruce-Michael Gelbert
bottom- Masters & slaves & MCs (left to right) John, Carlos, Diego, Edd, Joseph, Jeff, MC Mark Nayden, Slut Uncommon & MC Porsche - by Bruce-Michael Gelbert
.......................................................................................................................................................................................
The annual Leather Weekend in Cherry Grove took place the week before Memorial Day Weekend, from May 19 to 21, and included Twilight Guard, Connecticut's "Leather, Feathers & Bears" (oh my!) run, the 17th annual Mr. Fire Island Leather contest, and the 184th meeting of the Atlantic Motorcycle Coordinating Council (AMCC).
Two major events were moved, at the last minute, from the Ice Palace, which was not ready to open for the season, to Island Breeze restaurant, which gamely stepped up to host them. The centerpiece of the weekend was the Mr. Fire Island Leather contest, on May 20, and Sir Joseph, a member of New York City's Excelsior Motorcycle Club, was selected, by a panel of six judges, as Mr. Fire Island Leather 2017. Rich, from Cherry Grove, a former New York City Gay Men's Chorus Chair, was the other contestant.
Singers Porsche and Mr. FI Leather 2015 Edd Clark were the contest MCs and Chuck McTague was the DJ. Judges were former Messrs Fire Island Leather this writer (2001—the first), Jeff Goodman (2004), Diego Vargas (2007), Mark Nayden (2012), and Victor Skolnik (2014), and custom leatherwear designer David Samuel Menkes, who makes our sashes and vests, and Jeff dubbed us "the dirty half-dozen." Wendy Lewis served as tally judge. Contenders were judged on appearance and preparedness in Dress Leather and Interview; Raunch Wear--jockstraps and leather gear; an erotic Fantasy scene, acted out or described; and Q & A, with questions from MCs and judges.
Both contenders looked fine in full dress leather. Sir Joseph said that his 15 years in the Grove have made him aware of his interest in the Leather/S & M scene. Rich spoke of his 30 years as a Grove resident. The Raunch Wear section inspired discussion of the S & M hanky code, with Sir Joseph flagging blue, for fucking, and Rich, yellow, for piss. The Fantasy section found Joseph at the center of a production number, to the music of Maroon V's "(Just like) Animals," as he reveled in intimate encounters with three sexy "animals" in the Meat Rack. Rich, in his lederhosen from Munich, recounted a tale of Oktoberfest; the Leathermen who participated; and the piss scene there that made him happy. During the Q & A, Sir Joseph, asked about his first sexual experience, said it was with his best friend in sixth grade, who became his boyfriend for three years, while Rich said that his were at a Christian College Camp and with a sports celebrity in Pittsburgh. Asked about his leather, Joseph declared that he was proud to wear his Excelsior MC vest and his high boots, as he likes to lick boots. Rich spoke of being part of the resistance by a group that is not part of the Trump vision of America and mentioned the Trumps' alleged golden shower interest.
During the evening, Excelsior MC President Gabriel Rivas offered his view of the "Leather journey" that an individual goes through, supported by the community. Entertainment before and between parts of the contest consisted of Porsche's songs "The Showgirl Must Go On" and "Ex's & Oh's;" Edd's patter song "The Morning After," full of tongue-twisters and with an emphatic refrain of "Leave!;" and my "Someone to Watch over Me."
On May 19, the annual tongue-in-cheek benefit Master and slave auction took place at Island Breeze. Porsche and Mark Nayden were the MCs, Chuck was the DJ, and Porsche opened with the song "Big Spender." Bidders bought "Daddy dollars" to pay for their purchases, with five American dollars equaling $60 in Daddy dollars. Up for auction were uncut slave Antoine, from France, who went to Jeff Goodman for $155; slave Slut Uncommon, in fez and pantaloons, to me for $60; piss slave Johnny, to Joanne for $50; versatile Carlos, the Island Breeze bartender, sold to Bay State Marauders President Jonathan Kharfen for $230; Island Breeze's androgynous server Pat/Patty, sold for $35; Joe, not yet Mr. FI Leather 2017, to me for $300; and a Mr. FI Leather package of Jeff, Diego, Mark, and Edd, for $1,000 to a British visitor. According to Twilight Guard President/Treasurer Sanford "Sandy" Seever, the auction raised $500, in American dollars, which Excelsior MC will donate to a Grove charitable organization to be determined this summer.
Belvedere Guest House was the host hotel for the run, which, Sandy Seever reported, drew 60 participants—including two Leatherwomen--hailing from East Coast clubs from as far north as Maine and as far south as Florida. Other local businesses participating were Dune Point, which housed some Leatherfolk; Cherry Grove Pizza, responsible for the Friday night buffet dinner; Floyd's, serving the Saturday breakfast; Grove Market; and Sweet Licks Ice Cream parlor. The Saturday night dinner and Sunday Awards brunch were at Island Breeze.
Belvedere was the site of the AMCC meeting on May 20, with President Ed Caraballo presiding and delegates from Northeast and Mid-Atlantic clubs in attendance. AMCC's stated "purpose remains to act as a forum of discussion among its member clubs, to encourage participation in its sanctioned events"—including this run—"to coordinate event dates to prevent conflicts of scheduling, and to promote the enjoyment of motorcycling and the leather-levi lifestyle and to foster the safety thereof."
Next year's Fire Island "Lust for Life" Leather run will be hosted by Excelsior MC, from May 18 to 20. Visit www.excelsiormc.com for further information.