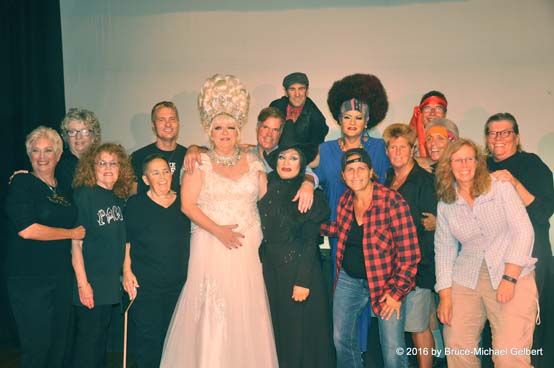 photo by Bruce-Michael Gelbert

"Ginger Snap's Journey through Broadway" company

.......................................................................................................................................................................................
Beloved Cherry Grove (Cherry's) and New York City (Lips) performer Emilio "Ginger Snap" DeLuca, who appeared at the Cherry Grove Community House in the final one of the once annual Doctor's Fund Benefits, in 2014, returned to this stage on August 20, thanks to the Arts Project of Cherry Grove (APCG), in a power-house production entitled "Ginger Snap's Journey through Broadway," effectively entwining moving recounting of autobiography with Broadway songs that helped illustrate her story. Assisting in making Ginger's show successful were a diverse cast of colleagues drawn from the community; creative director and stage designer George McGarvey; tech crew Matt Baney, Alison Brackman, and Michael Romanelli; stage manager Peg Ryan and stage crew Arthur Cohen, Dave Medina, and Chris Caswell; and scenic carpenter Gary Lemay.
The biggest novelty, biggest production number and, here, the climax of the show, was one that Ginger has performed on a smaller scale in the bars, but could take advantage here of the proscenium stage and other effects at APCG's disposal, "Defying Gravity," from "Wicked," with a lift instead of a ladder and someone to wave her cape, instead of an electric fan blowing it, as she loomed over us, lit in green and now empowered, as the Wicked Witch Elfaba. APCG President Thom "Panzi" Hansen joined Ginger as her delightful witchy counterpart, Glinda the Good ("I hope you're happy now"). The cheers were deafening.
Past APCG President Ceejay Rosen served as narrator, giving us glimpses of Emilio/Ginger's family life, love of Broadway, and place in the community to connect and introduce the musical selections. Ceejay read Ginger's quotes, "I was mesmerized by Broadway" and "I wanted to be a Broadway star," and we were off. "Broadway Baby," from "Follies," was Ginger's apt entrance song, at once awed, wistful, and enthusiastic.
Seeing the film of "Annie," as a child in Bay Ridge, Brooklyn was life-changing for our heroine. Ginger gave us Annie in the orphanage, wondering how her own life could change—"Maybe;" being harangued by an abusive Miss Hannigan—Donna Piranha, clutching a bottle and lamenting an existence teeming with "Little Girls"—but miming her dubious reaction to her tormenter's tale; and with a stuffed Sandy on a leash, anticipating a better "Tomorrow," but slyly slipping in a "Forbidden Broadway" parody—"I'm 30 Years Old Tomorrow (and I haven't worked since I played Annie)."
"The Wizard of Oz" was, unsurprisingly, a strong influence: Dorothy Gale was Ginger's "superhero" and first cross-dressing endeavor—"I started doing drag at the age of eight," she had said; and "Over the Rainbow" became a defense against bullies at school shouting "sissy" or "faggot." Ginger started here as Judy Garland as Dorothy in Kansas, with Toto, too, played by well-behaved Yorkie Rocky; found Busted whirling in that fateful twister; and morphed into a sophisticated diva, Patti LaBelle, say, doing "Over the Rainbow" in concert.
Ginger response to struggle and strife with her parents was "I Am What I Am," earnest and proud, from "La Cage aux Folles." "Cats" was Ginger's first Broadway show—when she created a cat costume at home, her parents declared, "You're going to a therapist." Ginger gave us "Memory," complete with moon, trash-strewn alley, and segue into a cat food commercial. Barbra Streisand, as Fanny Brice in "Funny Girl," became a role model, with Ginger insisting, "I'm the Greatest Star;" ceding center stage to singer Brad Bradley, who gave us an emotional "My Man;" and returning to roller skate with abandon around the Community House stage in "I'd Rather Be Blue," the first of several audience sing-alongs.
Ginger loved "The Sound of Music," but "nuns scare me … because of Catholic school," she said. Sisters Linda Dickerman, Barbara Hirsch, Doreen Rallo, Bobbie Green, Sue Panzer, Joanne Travis, and Troy "Beach DeBree" Files tickled our fancy as they wondered, "How Do You Solve a Problem like Maria?" and then segued into a swinging "I Will Follow Him," from "Sister Act." Ginger as Julie Andrews as Maria led the audience in a joyous sing-along of "Do- Re-Mi" to ring down the first act curtain.
At a performance of "Phantom of the Opera," Ginger first saw men holding hands with each other, and her aunt, who took her to the show, encouraged her to be proud of who she was. Gondola and candelabra helped set the scene for the musical's title song, with Ginger as Christine and Joanne as the Phantom. After a detour into "Rock the Boat," we heard an offstage crash—Ginger's high note had shattered glass!
AIDS was in the news, in Ginger's awareness, and on stage in "Rent," and the full company joined Ginger for "Seasons of Love," a moving moment. "Aquarius," from "Hair," was the song Ginger auditioned with to get her first job working in drag. Ginger produced a huge rolled joint and threw flowers to the audience, which joined in singing the late-1960s anthem. Ginger spent a time taking hormones and having implants, but stopped and reversed the sex change when her father became ill—cue "What I Did for Love," tearful but brave, from "A Chorus Line."
Introduced by Brad's "Chim Chim Cher-ee," Ginger showed us that Mary Poppins' "Spoonful of Sugar" could easily have been some other white powder. Preceding the finale were clips of Cherry Grove Icons that Ginger honored, from Teri Warren, Panzi, Bella, Charity, Joan "Scarlett Oh" Van Ness, the Homecoming Queen's all-woman Naval escort, Rose Levine, and Sybil Bruncheon to Porsche, Logan Hardcore, and Busted.
APCG's theater season continues with "Madame Demi Tasse's House of Wax/Whacks," on September 3 at 8 and 10 p.m., and Terrence McNally's "Next," with Tommy "Tush" DeMastri and Sherri Rase, directed by Joe Anania, on September 10 at 7:30 p.m.