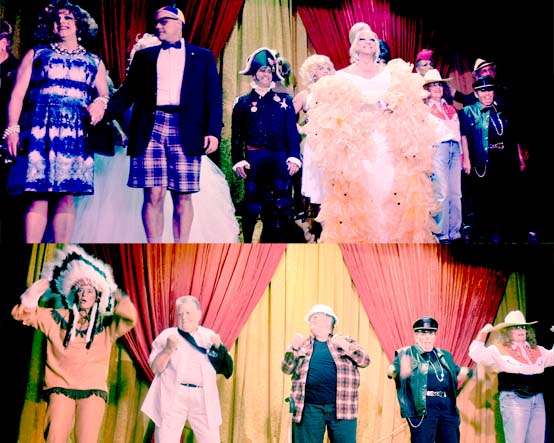 photo by Bruce-Michael Gelbert

curtain call, lower- Village People

.......................................................................................................................................................................................
For the Arts Project of Cherry Grove (APCG) Labor Day Weekend show, on September 3 at the Community House, Demi Tasse, in Madame Tussaud mode, took us on a wild, woolly, and most wonderful tour of "Madame Demi Tasse's House of Wax/Whacks!"— historic figures, show business icons, the supernatural, and the underworld, imaginatively conceived and recreated. Matt Baney served as technical director, Alison Brackman was responsible for sound and lights, and Martha Pitkin was the stage manager.
Mme Demi welcomed us and gave us a look at her busy minions, decorating a figure to strains of the "March of the Siamese Children," from "The King and I." Our guides through the museum, dispensing bon mots on the way, were a mother (Bon Bon Larue) and her very gay son (Joe Souza). French history was first on their agenda. They paid a visit to the lovely Marie Antoinette (Angela Mercy), all in white, fanning herself as she counted down the seconds till the descent of the guillotine, in a rapid-figure "Minute Waltz," of Frédéric Chopin à la Barbra Streisand. A lusty Joan of Arc (Donna Piranha), toasting marshmallows at the stake, set her sites in vain for little Napoléon Bonaparte (Ken Woodhouse), who ignored her as he danced—on his shod knees—while singing a lament for the lot of "Short People," in an enjoyably graphic vignette. On to ancient Egypt, where a regal Cleopatra (Demi Tasse), in an elaborate crown, lauded her own seductive wiles, consisting of "A Little Brains, a Little Talent," "Damn Yankees"-style, as she wooed her Roman (Eddie Galante), while an attendant (Andie Sargent) fanned them.
In the diverse Great Women of Song exhibit, we found siren Marilyn Monroe (Coco Love), her skirt blowing all the way up, as she stood over that vent, crooning "I Wanna Be Loved by You;" an animated Pearl Bailey (Bella), begging "(Won't You Come Home) Bill Bailey," as a clap-along; a pouting Shirley Temple (Lee Sharmat), a veritable virtuosa, tap dancing vigorously, "On the Good Ship Lollipop," as the audience sang along; and Billie Holiday (Demi), white gardenias adorning her hair, her white gown draped in ermine, eerily singing "Good Morning, Heartache" to us from the great beyond.
In our trip to the louche underworld, "Chicago's" hard-as-nails, gun-toting Velma Kelly and Roxy Hart (Demi and Coco) took all mishaps and misfortunes in stride, with their motto "I Move On;" dapper gamblers (Bobbie Green, Doreen Rallo, and Joanne Tavis) let us know, in the title song from "Guys and Dolls," just what a shady guy will do for a doll; and singing a swaggering "Mack the Knife," from "The Threepenny Opera," Dale Lally, his white fedora and spats complementing his black tux, perfectly rounded out the scene.
Our young tour guide was better acquainted than his mother suspected with the Village People—the Native American (Lee), the military man (Ruth Freedner), the construction worker (Susan Freedner), the leatherman (Linda Dickerman), and the cowboy (Barbara Hirsch)—who came to life doing "Macho Man"—but he also couldn't suppress his fascination with the big-haired, shiny-gowned girl group (Angela, Demi, and Donna) next door. Mother and son fearfully continued onto the gothic Chamber of Horrors, where they found, and avoided, Quasimodo (Mark Constanzo) ready to "Ring Them Bells" along with Shirley Devore; a kinky-booted sweet transvestite of a Frankenstein monster (Anne Phetamine); and the mummy.
Next came a visit with a young, elegant Cher (Demi), mesmerizing us with an Al Jolson medley, inviting "(Climb up on my knee,) Sonny Boy"—think about it; rushing to the side of "Mammy," and declaring, "Rock-A-Bye Your Baby with a Dixie Melody," in the 11-o'clock number. But in a postscript, the fairy godmother (Bella), waving her magic wand and chanting "Bibbidi-Bobbidi-Boo," changed Cinderella (Angela) into a more mature Ruth Freedner, dressed up and in tiara, to send her off to the ball.
Only missing from the fun was Panzi, who was to have portrayed Carmen Miranda, but was injured during rehearsals.