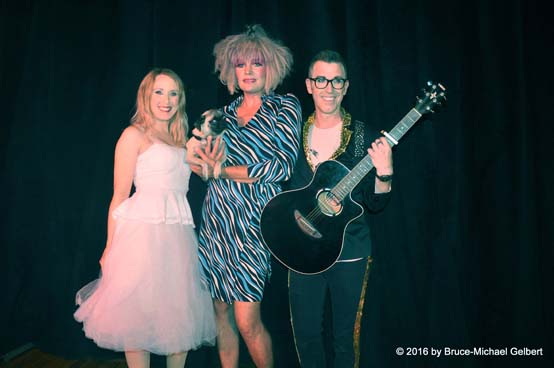 photo by Bruce-Michael Gelbert

(left to right) Patty McKeever, Rosie, Busted, & Al McKeever

.......................................................................................................................................................................................
Siblings Patty and Alfred "Al" McKeever and the idiosyncratic Busted, familiar from their performances at SandCastle and Cherry's, made their debuts at the Community House on July 9, thanks to the Arts Project of Cherry Grove, in their entertaining and varied show "Sissy."
After the entrance of Homecoming Queen Logan Hardcore, to strains of "God Save the Queen," Patty opened "Sissy" by portraying Dr. Phil, complete with bald cap, preparing to interview the cast of "The Shit Show," that is, Patty, Al, and Busted, diagnosing them as "so delusional that they still think that, when they perform, it is going to make them rich and famous," and introducing Busted, who ended "Bird Set Free" with her wig over her eyes, Sia-style.
With Al on guitar, Patty and Al, all gold and glitzy, sang, "We are people pleasers," a wistful and riotous low self-esteem number ("We are dependent, co-dependent … passive-aggressive"), ending with Patty's coloratura riff. Their hypochondriac's blithe lament, "I'm scared 'cause I think I'm going to die all the time," followed.
After Patty's commercial for "Beyoncé in a Box," for the female comic working in a drag bar, Busted, all red and glitzy, offered Beyoncé's "Love on Top," with much interaction, unsurprisingly, with Logan. "HagRace," a film that the trio made for Sherry Vine's gaySVTVworld, mischievously parodying "RuPaul's Drag Race," came next.
Patty's Dr. Phil returned to present Al, writing a letter to his younger self, seen on the screen, advising that Madonna numbers would not loom large in their future, and then undercut that counsel by delivering a lusty "Express Yourself." Patty gave us high drama, doing both parts in a scene for two from "Fatal Attraction," and Busted gave us a moment of pathos with Sara Bareilles' "She Used to Be Mine."
In novel takes on familiar Broadway numbers, Al was Mama Rose, bullying daughter Louise—on the verge of becoming Gypsy Rose Lee—onto the stage in "Everything's Coming up Roses," and Patty and Al took turns being Sally Bowles, inviting "(Come to the) Cabaret." Against the image of her/his younger self, Busted read a poignant letter to young gays, saying, "Your abs are perfect, but you don't make me laugh," but also, "Don't forget those that came before you—those that bled, so you don't have to."
Another ad, for "Busted in a Box," yielded dueling Busteds, Al and Busted, and led to another Beyoncé number for Busted, in which she feigned a Logan Hardcore split.
Patty, as a veiled bride, shared a "bitter" letter beginning, "Dear brother Al—you've ruined my life." Acknowledging that gay men taught her about "sarcasm and tickling a ball—or two—when you're giving a blowjob," she's also found herself, on "each birthday, more single than the next," because, "I've been living as a gay man so long, I've forgotten what straight girls want." She segued into her version of "Maybe This Time (I'll get laid)," observing, "He could get my ass/I would come so fucking fast," and, "This brown bear's coming out of her cage—hibernation's over!"
The trio, with Al on guitar, closed by singing their "Cherry Grove Song," starting, "We are so glad we're back in Cherry Grove," and giving shout-outs to many community members.