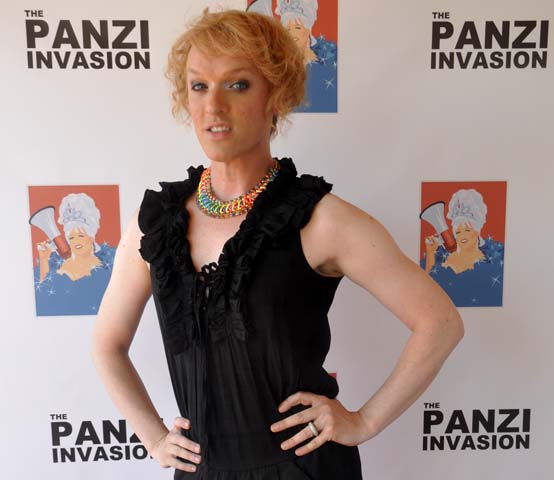 photo by Bruce-Michael Gelbert

Parker Sargent

.......................................................................................................................................................................................
On July 17 at the Community House, the Cherry Grove Archives, in cooperation with the Arts Project of Cherry Grove (APCG), presented, as part of their first "Outtakes" film festival, "The Panzi Invasion" (2016), a new film by recent Grove arrival Parker Sargent. "The Panzi Invasion" considers the history of the annual Independence Day Grove Invasion of the Pines, through detailed interviews with the three survivors of the original 1976 Invasion—founder, first and second Homecoming Queen, and current APCG President Thom "Panzi" Hansen; entertainer and journalist Bob "Rose" Levine; and past Cherry Grove Fire Department Chief Lyn Hutton—as well as other Invasion veterans, including the present and many of the past Homecoming Queens, enhanced by canny use of archival film footage and stills, to fashion a refreshing look at a familiar subject. Narration is by Steve "Hedda Lettuce" Polito.
There's a clip of Teri Warren, who went to John Whyte's restaurant, the Blue Whale, in drag and was refused service, inspiring a dozen of her friends, men and women, to "invade" the Pines in drag to avenge the slight. Panzi, Rose, and Lyn all offer takes on what happened, giving us an idea of how this historic event took shape. In her interview, Lyn mentions that the first Invaders went to the Pines bearing placards, reading "The Pines Is Plastic" and "Pines Clones," which developed into chants. John "Sybil Bruncheon" Burke contrasts the Grove and "family community" the Pines, paints portraits of Whyte and the developing Pines, and reminds us of such past restrictions as the ban on same-sex dancing on Pines establishments' dance floors. Lyn points out, "We weren't pretentious—we accepted everybody."
Given moments center stage are past Queens Charles "Charity" Del Orfano, Bob McAleavy and Doug Rowan "Good and Plenty," Chris "Ariel Sinclair" Laffin, Troy "Beach DeBree" Files, John "Gianna" Cella, and reigning Queen Logan "Logan Hardcore" Slaughter, but undeniable highlights are the interview with and Invasion clips of Joan "Scarlett Oh" Van Ness, the only—and hence controversial—female Homecoming Queen. Joan/Scarlett was welcomed, on invading the Pines, by a group carrying a sign saying "Pines Women Salute Queen Joan." There's also a clip of Joan's spouse Lorraine Michels, showing her book, "The Invasion of the Pines: 40 Years of Fun, Frolic & Fantasy."
With a clip of Panzi on the second Invasion, in 1977, Panzi discusses the decision to invade again on the anniversary of the first Invasion. Sybil and Panzi discuss the effects of AIDS on the community, but the Invasion "has a life of its own," Panzi has discovered, and has continued as a day of celebration.
There are early clips of Billie Ann Miller on Invasion, the Mattachine Society demonstrating in New York City, and Panzi and Rose on stage in Arts Project shows. Linda Dickerman and Barbara Hirsch are interviewed about the Queen's all-woman Navy escort, in 2001 and again in 2015. Ruth and Susan Freedner discuss their assistance to Panzi in selling tickets for the Invasion boat and Matt "Empress Ikea" Baney talks about helping to keep order in boarding and on board the ferry. Panzi declares, "My favorite Invasion was the 40th [in 2015], with the marching band [the Lesbian & Gay Big Apple Corps] and the [past Homecoming] Queens," and there are clips of the band playing and Queen Demi-Tasse escorted by Mr. Fire Island Leather 2015 Edd Clark on the Pines pier.
Favorite entertainers Roy "Bianca Del Rio" Haylock, Ginger Snap, Susan "Lavinia Draper" Campanaro, and Hedda Lettuce have their say. Journalist Jeannie Lieberman offers a press perspective and Michael Fitzgerald, Rose's partner, gives us his, as Rose's escort.
Many thanks to the Archives Committee's Michael Coffindaffer, Lee Sharmat, George Lyter, Brian Clark, Troy Files, and Carl Luss and APCG's Panzi and Dennis McConkey for giving us the opportunity to see Parker's "Panzi Invasion" first. It's a must-see, so watch for announcements of future screenings.