he 40th anniversary Cherry Grove Invasion of Fire Island Pines, commemorating the time in 1976, when Grove thespian Teri Warren tried to get service in the restaurant at the Botel, and entrepreneur John Whyte—for whom the Pines' Whyte Hall is named—refused to take an order from a customer in drag. Teri returned to the Grove with her story and a small boatload of cross-dressers, male and female, headed by Thom "Panzi" Hansen, went to the Pines to avenge the slight. Whyte may have refused to serve one drag queen, but was not about to turn away a dozen paying customers, so victory was declared, Panzi was hailed as the Queen, and the event is commemorated every year by a boatful of hundreds of colorful cross-dressers, docking at the Pines pier, in the Fourth of July Invasion, still coordinated by Panzi!
Joyously heading the 40th anniversary 2016 Invasion, on a bright, sunny July 4, was 41st Cherry Grove Homecoming Queen Logan Hardcore, brash and boisterous young Ice Palace entertainer. Her theme, and that of an entourage, which included predecessors Ariel Sinclair and Donna Piranha; colleagues Brenda Dharling and Jada Balenciaga, looking very much like the leads of "Aida;" Joyce Rodgers and Todd Joseph, Logan's fiancé, was "Tribal," with attendants wearing leopard prints and traditional African designs.
This soon after the Orlando massacre, we were, unsurprisingly, escorted by police boats. Doreen Rallo and Bobbie Green, and Matt Baney and Chris helped Panzi keep order on the Invasion boat.
We arrived in the Pines, where were greeted by the likes of singers Porsche and Rose Levine, erotica's own Robin Byrd, and the Pines Property Owners Association. Disembarking first, and heralding the Queen and entourage's arrival, were a troupe of rainbow-garbed and –wigged Broadway performers, doing a dance number; Panzi, calling for moment of silence in memory of those assassinated at the Pulse bar, in Orlando, on June 12; the Long Island Gay Men's Chorus, singing a moving pairing of "We Shall Overcome" and "Lean on Me" and holding up letters spelling out "Orlando;" and Lorraine Michels and spouse Joan Van Ness, carrying a banner depicting Panzi on the cover of Lorraine's book "The Invasion of the Pines: 40 Years of Fun, Frolic & Fantasy 1976-2015." Then fierce Queen Logan and company took to the pier's red-carpeted runway, to be roundly cheered and warmly welcomed.
There was an Imperial Court of New York contingent, headed by reigning Emperor Tree and Empress Sugar B. Real. Past New York Empresses Robin Kradles, Demi-Tasse and, of course, Panzi were in attendance. There were numerous past Grove Homecoming Queens, including Lola Galore, Beach DeBree, and YaNeeda Dunes, as well as three Messrs. Fire Island Leather: 2001 this writer 2007, Diego Vargas, cleverly disguised as Wonder Woman; and 2016 Cesar Diaz. Panzi brought Ken Stein, of Sayville Ferry Service, who provided the boat we rode over on, onto the red carpet to take a bow.
Pines powers-that-be dubbed Panzi the "most glamorous" Queen on the Invasion; venerable China, the "best individual;" and "Off-White and the Seven Rainbow Hipsters," Sue Panzer, Angela Smith, Dawn Wilson, and friends, the "most Cherry Grove" group. In this heated Presidential election year, there were Hillary and Bill Clintons; Reformed Republican First Ladies—representing the "most Fire Island Pines" group; another First Ladies Club, anticipating Bill Clinton as First Dude; and a Donald Trump with a Chris Christie, in chains, in tow, deemed "most political," not to mention one of the Gays Against Guns, the group that did a lie-down on Fifth Avenue, during the previous week's LGBT Pride March in New York City, and a contingent exclaiming, "Fuck the NRA ." Other prize winners were an Eve—or was she Lady Godiva—surrounded by a veritable Garden of Eden of roses; a group of beauties, in sashes and tiaras, with names like Miss Bea Haven, Missing Manners, Miss D'Opportunity, and Miss Carriage; and Ann Phetamine, dubbed "Miss Pleasure Dome," bravely bringing up the rear.
The tragedy in Orlando, the Pride Parade in Cherry Grove, President Barack Obama's designation of Stonewall and Christopher Park as a National Monument, the Pride March in New York City, and the Invasion of the Pines, in quick succession, have certainly made for a most heady start of summer.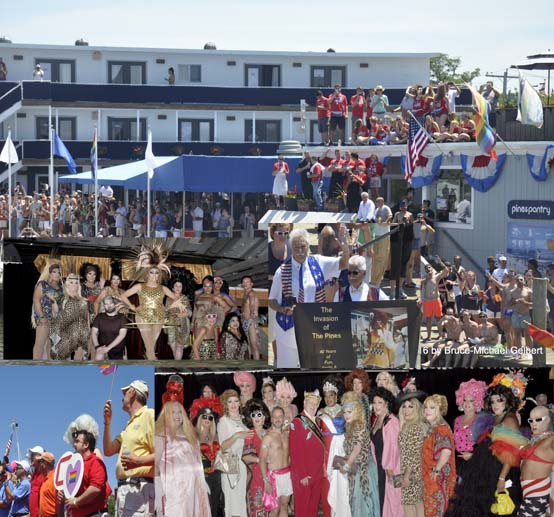 photos by Bruce-Michael Gelbert

Pines welcomes Invasion [insets l-r top:) Queen Logan Hardcore & entourage, Lorraine Michels & Joan Van Ness & banner], [l-r bottom:) Long Island Gay Men's Chorus, Imperial Court of New York contingent]

.......................................................................................................................................................................................