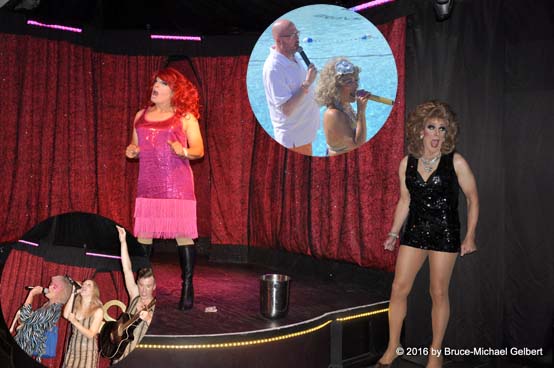 photos by Bruce-Michael Gelbert

Ginger Snap & Gusty Winds at Cherry's (insets- Kenny Holcomb & Lavinia Draper at the Ice Palace pool, Busted, Al & Patty at Cherry's)

.......................................................................................................................................................................................
Prepare to be entertained on Sunday nights at Cherry's, first by Broadway baby Ginger Snap and the ever-slenderer Gusty Winds, then by talented musical siblings Al and Patty, with the enigmatic Busted, with DJ Tommy Branigan assisting at both shows. The performances discussed here took place on June 19, the day after LGBT Pride Day in Cherry Grove.
Ginger worked the stage, the room, and the top of the bar with "Life of the Party," complete with high kicks, from "The Wild Party," at my request, for a dynamic opening. She continued with Ariana Grande's "Break Free (I can't resist it no more)," feigning taking a snort of coke to ensure the energy to finish the song. Even the boys on the dock, waiting for the water taxi to the Pines, cheered and came into the bar to tip her. Ginger's seductive "I Love Rock 'n' Roll" finished her first set.
"Things are looking up for me now," offered an optimistic Gusty, followed by frenetic Liza Minnelli number "Dancing in the Moonlight." Classic disco wars followed, with a glittery Ginger's energetic "MacArthur Park" countered by Gusty's "I Will Survive." Ginger gave us "Let's Get Physical," dressed in workout clothes, on roller skates, doing pushups, stretches, leg lifts, and weight lifting with wig stands. Gusty assured us, in "Shake It Up," that she was "dancing for my life."
Versatile Ginger became Kermit the Frog for "Rainbow Connection," segueing, not illogically, into the Pointer Sisters' "Jump." A Tina Turner tribute consisted of Gusty's "Better Be Good to Me" and Ginger and Gusty's "Proud Mary," with members of the audience. Ginger touched us with her proud "I'm Here," from "The Color Purple," and an angry Gusty swore she was "Not Ready to Make Nice." For their finale, Ginger and Gusty donned 'lesbian drag' for the Indigo Girls' "Closer to Fine."
Al, Patty, and Busted's show, originating at SandCastle and now at Cherry's, was next on tap.
Busted saluted Whitney Houston with "Love Will Save the Day." With Al on guitar, he and Patty sang the same-sex marriage song that they wrote, "Married in Massachusetts." Busted followed up with Ariana Grande's "Into You." Al was Mama Rose and Patty was Louise, already in Gypsy Rose Lee mode, in "Everything's Coming up Roses," from "Gypsy." The next number found Busted, clutching pug Rosie, imploring "Jesus, Take the Wheel," with the wheel a rainbow hula hoop and Jesus played by Patty.
Al regaled us with Harvey Milk's "Hope Speech" and stripped to red, white, and blue glitzy top, fishnet hose, and less, waving a rainbow flag, to "People Like Us." Busted and Patty enacted a dramatic scene from British film "Notes on a Scandal" and Al joined Patty to lament that "(Nobody's got no) Class," in the song from "Chicago." Brother and sister took a commercial break, touting "Cigarass," a most unusual, breath-saving nicotine patch. For their finale, Al, Patty, and Busted, with Rosie, sang their "Cherry Grove Song," a welcome home, declaring, "We are so glad we are back in Cherry Grove," and naming, well, just about all of us present.
Catch Ginger Snap and Gusty Winds at 9:30-ish and Al, Patty, and Busted at midnight on Sunday nights at Cherry's. For the Arts Project of Cherry Grove (APCG), the latter trio brings their show "Sissy" to the Community House on July 9, where you can also spend "An Evening with Ginger Snap" on August 20.
Incidentally, Lavinia Draper was in the audience for part of both shows, having sung with Kenny Holcomb, making his farewell appearance before returning to Nashville, at Ariel Sinclair and Logan Hardcore's Ice Palace Pool Show, that afternoon. Lavinia and Kenny's duets were "The Lady Is a Tramp" and "Last Dance," with a most unusual ending that found Kenny pushing Lavinia into the pool, where Lavinia ended up sans wig and completely naked. Lavinia offers "Five Minutes Miss Draper," for APCG, at the Community House, on July 23.