Between 2013 and 2016, Cherry Grove's 68-year-old Community House and Theater, designated a historic site on the National Register of Historic Places and New York State Historic Register as "the oldest continuously operating gay theater in the U.S." in 2013, underwent extensive restoration, renovation, and repair to make it structurally sound again. The $1.3 million cost, so far, was offset somewhat by a $334,000 Economic Development Council grant from the New York State Department of Parks and Recreation, but the larger part came from the community. The Community House reopened, with much fanfare, during Memorial Day Weekend, with gala parties; the election of Logan Hardcore as Cherry Grove's new Homecoming Queen, leader of the Fourth of July Invasion of the Pines; and a quiet service in memory of those we've lost.
The Cherry Grove Community Association, Inc. (CGCAI) announced two inaugural events, an Opening Party, on the evening of May 28, "to thank all of the people who helped make this happen," according to CGCAI President Diane Romano, and an Open House, on the afternoon of May 29, when "all are welcome to come in and look around" and take guided tours of the newly-renovated space. Community members turned out, en masse, on Saturday night, marveling at the spic-and-span new-looking space and inspecting the changes that were made.
Past Homecoming Queens Angela Mercy and Freeta Chews, Donna Piranha, Coco Love, Lola Galore, Beach DeBree, and YaNeeda Dunes and reigning Queen Demi-Tasse, all dressed to the nines and bearing trays of glasses of champagne, greeted our arrival at the front door. Arts Project of Cherry Grove (APCG) President, first (and second) Homecoming Queen, and Invasion Founder Thom "Panzi" Hansen; Diane; and Coco presided at the ribbon-cutting ceremony to open the house officially. Hors d'oeuvres, crudités, fruit, and drinks were available inside throughout the evening.
A wall no longer separates the theater and the pavilion, where people assembled before the shows and during intermissions, so that seating can now stretch into the pavilion, adding another 50 seats, if needed, to the original 100 or so. There are a new meeting room, new bathrooms, metal guard rails on either side of the two steps down from pavilion to theater and at the entrance, new wooden staircase up to the balcony, new shingles outside most of the building, and increased garden space. The Cherry Grove Archives will gain additional space. The foundation was stabilized to help it resist bay erosion and severe storms. A new septic system and "dry" sprinkler system were installed. Still to come, following further fundraising, will be a second floor outdoor pergola and deck.
Diane took the stage, welcoming us to this "great grand opening;" explaining, "The journey has been long—about five years—and it's been tough," and "This is a remarkable milestone for Cherry Grove;" and pronouncing the result as "splendid!" She bade CGCAI Vice-President Joyce Yaeger and Board member Frank Borsas unveil the "Cherry Grove Community House and Theater Benefactors Circle" plaque at the back of the theater, with Frank and Michael Coffindaffer, Sam Green and Chris Lacovara, Gerri Losquadro and Lynne Moyer, Diane and Patricia A. Goff, and Dr. Anna Tirado and Henriette van Woerkom Grul heading the list as "Titanium" donors of $50,000 or more.
Diane acknowledged Carl Luss for his work in getting the Community House placed on the Federal and State historic registers, and Parks Department Officials, including former Grovite Alan Payne, for their assistance. She paid tribute to Queens "in mile-high wigs and stilettos who have entertained over the past 70 years," and to Panzi and the APCG Board with "a special kiss," because they "stayed by us hand-in-hand through the whole process." Diane declared, "If the Community House is the whole body, the Arts Project is the heart," to introduce Panzi's speech.
Diane mentioned contributions of other community organizations as well and remembered those of the late Tom Cunningham, David Bullock, and Harold I. Seeley. She thanked George McGarvey for lovingly restoring Harold's gilded stage proscenium, incorporating artifacts from the shows and their divas. She saluted Coastal Roots' Todd Erickson and Peter Chace and the Cherry Grove Garden Club for planting the mostly indigenous plants in the expanded Community House garden, now graced as well by one of the original pre-siren metal fire gongs, unearthed by CGCAI Treasurer Jean Jerome and Teresa Yodice and transported by Mark Atten and others. Diane cited a proposed Town of Brookhaven plan to gut the basement and destroy the historic dressing room walls and the performers' signatures that adorn them, and how this was averted. She mentioned CGCAI and APCG Board members who made this event happen, including Joyce as press liaison, Jean for figuring out financing, and Frank for raising funds.
Frank spoke, saying, "Today is a day of great pride and celebration" as we "are realizing a vision … With your support, we will complete the second floor … deck and pergola." CGCAI Secretary Dr. Toni G. Cesta, who met with structural engineers, builders, and contractors, regarding shoring up, renovating, and repairing the Community House, while preserving its original look, thanked her wife, Jane V. Haber, for her support throughout and presented bouquets to Jane and to Diane, who thanked her wife Patricia as well. Hailing Diane as "the driver of all of this," Joyce presented her with a plaque. In closing, Diane remarked, "If you want to go fast, go alone; if you want to go far, go with a team." Thanking the assembled, she declared, "This Community House was renovated by the people of Cherry Grove!"
On the evening of May 29, APCG's annual Homecoming and Membership Party took place, and Ice Palace and Stonewall Performer, as well as Miss Fire Island 2011 Logan Hardcore was acclaimed as Cherry Grove Homecoming Queen 2016, besting four other contenders for the title. Additional contestants were Craven Morehead, Mother, Cherry Grove Archives' JoJo Gerard, and gender-bending Sonny Shores, who placed as semi-finalist. Mistresses of Ceremonies were Panzi and Bella. Matt Baney and Alison Brackman were responsible for sound and lights.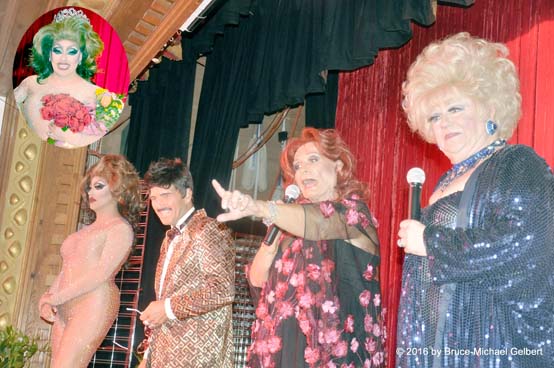 photos by Bruce-Michael Gelbert

semi-finalists Logan Hardcore & Sonny Shores & MCs Bella & Panzi
(inset: Homecoming Queen 2016 Logan Hardcore)

.......................................................................................................................................................................................
Homecoming Queen 2015 Demi-Tasse stepped down as Cher, in black leather and silvery glitz, to a standing ovation, with a medley of "Strong Enough," "Take Me Home," and "The Way of Love." An hour later, she crowned successor Logan with a crown that had belonged to the late Billie Ann Miller, and was donated by Ivanna Cocktail and Bella.
The MCs required a song of four of the five competitors. Craven obliged with "Frère Jacques" and we all sang along. Logan improvised, "Logan, you got a noise complaint," something she must hear often during or after her Ice Palace shows. JoJo rapped "Pump up the Jam." Asked for something operatic, Mother gave us her take on "O sole mio." As Sonny actually is a singer, the MCs posed questions instead. Panzi queried, "Why isn't Norway in the European Union?" and Sonny responded, "I don't know." Bella wondered, "What would be your interpretation of being Homecoming Queen, as Sonny Shores?" and Sonny replied, "Although I do not look good in a dress, I look great in hair … I am drag 'through the looking glass' … I promise to do the best at what I'm doing; … will walk naked through the Carrington Tract" where nudity is expressly prohibited; and "build a wall and make the Pines pay for it!"
Panzi insisted that Bella, at some point, announced our new Queen as "Hogan Lardcore." Those of us who are familiar with Logan's work may think of her as brash and brassy, but winning the Homecoming Queen contest brought genuine tears to her eyes. Watch out, Cherry Grove: Logan's reign promises to be a wild and woolly one!
On a more sobering note, the community gathered at midday on May 30 for the annual Memorial Day Service, remembering Cherry Grove's losses since last season. Memorial organizer Roland Michely's welcome and pianist Gene Rohrer's contemplative rendition of Dave Grusin's "Hello, Golden Pond …" set the tone for the proceedings.
Remembering the origin of Memorial Day, Diane Romano recalled those "who have fought and died for the freedoms Americans hold dear." She continued, "We come together in Cherry Grove to remember our loved ones, people and pets alike," and encouraged, "Let's be kind to one another." She concluded with a meaningful memorial poem.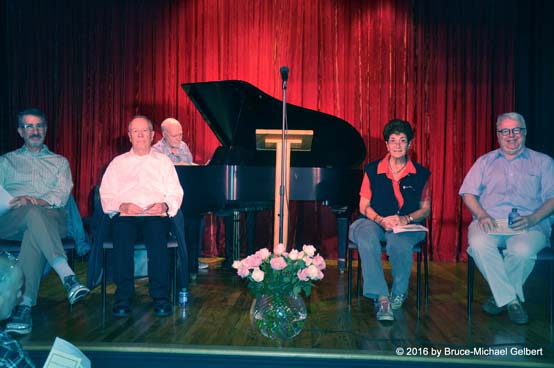 photo by Bruce-Michael Gelbert

(left to right) Richard Schack, Roland Michely, Gene Rohrer, Diane Romano & Panzi

.......................................................................................................................................................................................
Panzi said, "We remember our history, we remember our predecessors, we remember everybody;" recalled some of APCG's donors and the theater's Maggie McCorkle and Max Killingworth; and shared a poem as well.
The Memorial Fund's Richard Schack cited Thornton Wilder's "Our Town" and "Bridge of San Luis Rey," showed a childhood Halloween photo, taken in the 1950s, and mentioned the losses of some of those friends, one at age 10, and another, later, to AIDS.
Roland read the newest names in the Grove Memorial Fund's "Book of Remembrance," including Howard Amron, Ettore Anania, Andrew Dickerman, and Barbara Galletta, relatives of Grovites; Thomas "Minnie" Axt, frequent participant in the Doctor's Fund Benefits; Monster and Island Queen bartender Sherwood Dewey, almost 100 when he died in March; Michael "Ceil" Chambers and Patrick "Patti Ann" Doherty, newspaper columnist for the Grove and one-time Grove hardware store owner; Ralph Fingerle, major donor to APCG and the Community House; John Howe, Kathy's husband; James "Aurora Stone" O'Keefe, Miss Cherry's 2006; Michael "Daisy Mae/Flat Iron Mike" Weyand, APCG President in 1998 and erstwhile editor of the Imperial Court of New York Court Circular; and Doreen Rallo and Bobbie Green's dogs Chief and Sarge; this writer and Joe Saporito and, formerly, the late Greg Klosek's cat Sonyetka; and Evelyn Danko and Valerie Perez's cat Victoria Ashley.
The service concluded with Gene's playing of John Barry's "…Somewhere in time;" Roland's closing remarks; a minute of silence; and the greeting of our neighbors.
APCG's theater season at the Community House will begin on June 11 at 7 and 9:30 p.m. with "An Evening of Celebration and Song" starring Broadway's Faith Prince and Karen Mason, with pianists Joe Thalken and Christopher Denny, co-produced by George McGarvey. Reserved seating at $100 and general admission at $75 are available at
www.artsprojectcherrygrove.org/featured-events
. Also coming up are Koitz's photo exhibit "SNAP!! Cherry Grove---One of a Kind," on June 25 and 26 and July 2; Rose Levine's "Cherry à la Mode" on July 2; "Sissy," with SandCastle's Al, Patty, and Busted," on July 9; the Cherry Grove Archives' "Outtakes" Film Festival, from July 15 to 17, featuring a restored and campy "Camille," shot at Pride House in 1953; "Five Minutes, Miss Draper," starring Lavinia Draper, on July 23; the "Side-Show" Casino on July 30; the annual Art Show on August 5 and 7; "An Evening with Ginger Snap" on August 20; "Mme. Demi-Tasse's House of Wax/Whacks" on September 3; Ken Woodhouse's Arcade Theater and Kids Kamp's "Pay as You Exit" show on September 4; and Terrence McNally's "Next," directed by Joe Anania and starring Sherri Rase and Tommy "Tush" DeMastri, on September 10.