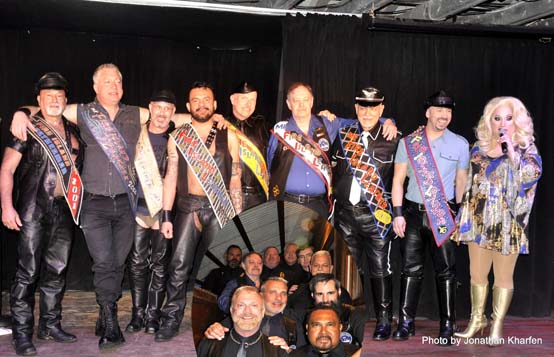 main photo is by Jonathan Kharfen, inset photo by Bruce-Michael Gelbert

Messrs Fire Island Leather 2001 Bruce-Michael Gelbert, 2004 Jeff Goodman, 2005 Joseph R. Saporito, 2007 Diego Vargas, 2012 Mark Nayden, 2014 Victor Skolnik, 2015 & contest co-host Edd Clark, 2016 Cesar Diaz & contest co-host Ariel Sinclair (inset: Excelsior MC members)

.......................................................................................................................................................................................
Cesar Diaz, protégé of Mr. Fire Island Leather 2007 Diego Vargas, was chosen as Mr. Fire Island Leather 2016, by a panel of five judges, and familiar Cherry Grove figure John Doyle was declared audience favorite, at the 16th annual Mr. Fire Island Leather Contest, at the Ice Palace, on May 21. The competition took place during New York City-based Excelsior Motorcycle Club's 41st annual Lust for Life run, "The Island of Misfit Boys," from May 20 through 22, with 61 Northeastern Leathermen in attendance.
Hosting the contest were Ariel Sinclair, its Mistress of Ceremonies for every year but one since its inception in 2001, and for the first time, Edd Clark, Mr. FI Leather 2015, stepping down that night. DJ Chuck McTague was responsible for music, sound, and lights. Judges were former Messrs. FI Leather this writer (2001), the first; 'East Village Stud' Jeff Goodman (2004); Mark Nayden (2012), co-owner of Excelsior bar in Park Slope, Brooklyn; Victor Skolnik (2014), Excelsior MC Treasurer and Atlantic Motorcycle Coordinating Council (AMCC) President; and David Samuel Menkes, custom leatherwear designer, who made sashes for all and vests for most Messrs. FI Leather, and has judged the competition every year. Wendy Lewis served as tally judge. Contenders for the title were judged on appearance and preparedness in dress leather and interview; fantasy scene or narrative and fantasy wear; and raunch wear and responses to questions from the judges.
In his fantasy scene, Cesar played a bespectacled student, equipped with notebook and backpack, and Diego portrayed the school janitor. After porn magazines spilled out of the student's bag, he and the janitor stripped to jocks, boots, and harnesses, and the janitor had his way sexually with the scholar. For further entertainment, Cesar was garbed as a nun, wearing a glitzy green dress beneath the habit, with Diego as a cardinal, sporting harness, jock, and rosary beads under his robe and flagellating himself with a cat o' nine tails, to songs "I Will Survive" and "It's a Sin." For his fantasy, John recounted a golden shower scene, which he pondered sharing with his therapist. Questions for candidates were about their willingness and availability to attend upcoming Cherry Grove community events and New York City Pride, with titleholders' visibility an underlying concern, as well as why they wanted to become Mr. FI Leather.
Entertainment during the event came as well from Ariel, who offered a raunchy "All about That Bass" parody; Jada Balenciaga, with a mash-up of "Titanium," "Fighter," and "Stronger," complete with high kicks; Edd Clark, singing Stephen Sondheim's "I Never Do Anything Twice," a song singularly appropriate to a leather/fetish/kink fête; and yours truly, singing "Unchained Melody," my 'party piece' of the season.
On the previous night, at the Ice Palace, Excelsior MC presented its annual benefit Master and slave auction, hosted by singer Porsche and Mr. FI 2012 Mark, and raising $528 for Cherry Grove Emergency Medical Services. Porsche kicked off the proceedings by singing "Get This Party Started," Shirley Bassey-style, and Brandy Clark's new "Girl Next Door" ("If you want the girl next door/Some Virgin Mary metaphor"), assisted by DJ Chuck, and donated all of her tips to Excelsior's beneficiary. Auctioned off were Master Roy, slave—and New England titleholder—Jonathan, and Master Brian, from Boston's Bay State Marauders; Master John Doyle and slaves Sonny Shores and Christian, from Cherry Grove; boy lanoy Ballard, Mr. Eagle NYC 2015, bringing in the highest bids; and slave Jonas, from Fire Island Pines and New Orleans. For a grand finale, Porsche sang "Sexual Revolution."
Preceding the auction, at the Palace, was a three-ring circus of Excelsior's bar night, an Italian buffet dinner from Cherry Grove Pizzeria, and Logan Hardcore's show, with DJ Chuck, featuring songs by Beyoncé and, swinging from the rafters, Sia's "Chandelier." Dinner before the contest was at Island Breeze restaurant and that morning's breakfast was at Floyd's restaurant. Belvedere Guest House for Men was the host hotel and registrants also stayed at Dune Point and Horizon Beach House. Belvedere was the site of cocktail parties given by Bay State Marauders and other visiting leather clubs. The run concluded, on May 22, with brunch and awards and closing ceremonies at Island Breeze. Next year's Fire Island run will be presented by Connecticut's Twilight Guard, celebrating its 22nd anniversary, from May 19 to 21, 2017, and the run's title is "Leather, Feathers and Bears!" (oh my).