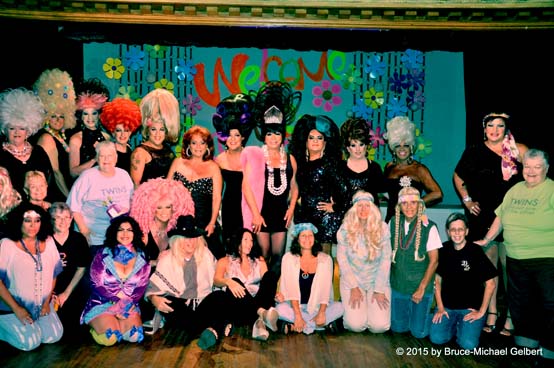 photo by Bruce-Michael Gelbert

"Legends VI: Hullabaloo" cast

.......................................................................................................................................................................................
On the Saturday night of Labor Day Weekend, Matt Baney brought an entertaining sixth edition of his "Legends" series, involving Cherry Grove's Homecoming Queens and more, to the Community House, thanks to the Arts Project of Cherry Grove, and the show was entitled, in full, "Legends VI: A Musical Celebration of Cherry Grove's Homecoming Queens: Hullabaloo: A '60s Musical Flashback." Featured were Homecoming Queens (HQs) 1976-77 Panzi, 1990 Philomena, 2000 Good/Angela Mercy, 2001 China, 2002 Ariel Sinclair, 2004 Donna Piranha, 2005 Ivanna Cocktail, 2006 Coco Love, 2007 Lola, 2008 Margo, 2009 Urban Sprawl, 2010 Beach DeBree, 2011 YaNeeda Dunes, 2014 Whore D'Oeuvre, and 2015 Demi-Tasse; composer and pianist Nina Bianchi; the Cherry Grove Community Association (CGCAI) Board of Directors; and additional community members including Bella, Paulette Manos, Jennie Mandelino, Diana DiPrima, Edie Ringel, Sue Panzer, Angela Smith, Susan Freedner, and Ruth Freedner, for an embarrassment of riches.
The elaborate opening number found past HQs serving up such 1960s melodies as Martha and the Vandellas' "Heat Wave," Supremes songs, "It's in His Kiss" (the Shoop Shoop song), "Dancing in the Streets," "My Boyfriend's Back," "My Guy," "(You make me wanna) Shout," and "I Only Wanna Be with You," leading up to reigning HQ Demi's entrance for a disco "Downtown," which inevitably became a sing-along.
Next we sang along with the old Alka Seltzer jingle.
Nina Bianchi took her place at the Yamaha to play a beautiful original composition, against a flower power background and the words "Welcome to the '60s."
In their blasts from the past, Susan and Ruth, sporting Mets t-shirts, did the "Which twin has the Toni?" permanent wave TV commercial, then played mother and daughter in an Ivory Liquid spot, and finally hawked Doublemint gum. A platinum blonde Bella, all in white, eagerly awaited a delivery from "Mr. Postman" Sue, who had mail for some of us in the audience, but not, alas, for Bella. Statuesque Angela Mercy then taught us the rules of "The Name Game."
Donna, in an Alice blue gown, with white apron, and blonde hair, was equipped with a Mad Hatter, a hookah pipe, and white powder for a riotous "White Rabbit." A Cracker Jacks commercial followed. Panzi played the Singing Nun, doing "Dominique," with Ruth and Susan as backup Sisters. A big-haired Coco exposed the hypocrisies of "The Harper Valley PTA." Assisted by Sue and Angela, Ariel, strutting the runway, informed us, in no uncertain terms, about her shiny gold high-heeled footwear, that "These Boots Are Made for Walkin'." Closing Act One, Matt's number was "Make Your Own Kind of Music," backed by a quintet of CGCAI Board members, including Joyce Yaeger and David Medina, as his Mamas Cass, concluding with a special announcement from Diane Romano, his star backup, about the fundraising for and anticipated renovation of the Community House.
A trio of Grove beauties in baby clothes, with just their upper bodies visible, opened the second act with "He's So Fine," using their answer to the "Band Wagon" triplets number's choreography. An armed Whore D'Oeuvre, in black cowgirl garb, with lacy see-through top, turned "Stand by Your Man" on its ear by choosing an apt victim from the audience and bossing and tossing him around. A thing of shreds and patches as Janis Joplin, Panzi invited, "(Take another little) Piece of My Heart," represented by an actual piece of organ meat.
A blue-haired Margo led an audience sing-along of "Aquarius" and "Let the Sunshine in" from "Hair." Philomena as Connie Francis, armed with air freshener and knee pads, sought to find out "Where the Boys Are," in the Neil Sedaka song. Demi, as Shirley Bassey, gave us a haunting "Goldfinger." A big-haired Ivanna's solo was "Dancing in the Streets." The full company's grand finale found the HQs in their biggest hair for the title song from "Hair."
Look for "Legends VII" in two seasons.