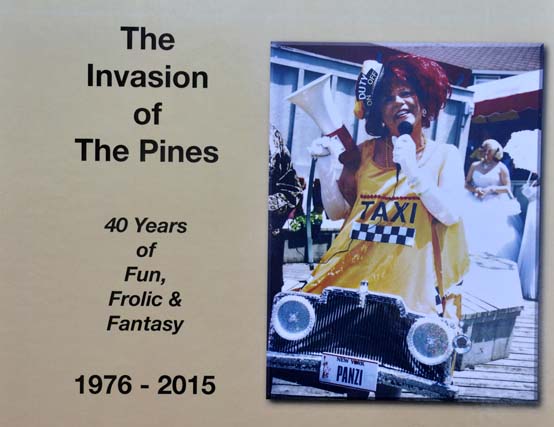 photo by Bruce-Michael Gelbert

Invasion of the Pines book cover

.......................................................................................................................................................................................
During a very busy August 8, which for many of us began with a gala birthday party at Belvedere that Michael Moran, AKA Homecoming Queen 2014 Whore D'Oeuvre, threw for partner Matthew George, highlighted by a performance by venerable jazz great Annie Ross, and ended with a choice of Hedda Lettuce's Arts Project of Cherry Grove (APCG) show at the Community House or Margaret Cho at the Ice Palace, Lorraine H. Michels introduced her new photographic history book "The Invasion of The Pines: 40 Years of Fun, Frolic & Fantasy 1976-2015," at FIG (Fire Island Goods) and Floyd's Restaurant, continuing to chronicle Cherry Grove's story in photo book form, which she began in 2013 with her "Celebrating the Heart of Cherry Grove: The Community House," on the occasion of the 65th anniversary of our historic house and in recognition of its unprecedented continuity as a home to LGBT theater. Like Lorraine's earlier book, "Invasion of the Pines" is both festive, for its zesty, colorful photographs, and invaluable, for the history it documents.
In this new volume, which, like the previous one, retails for $100, with a portion of the proceeds designated for APCG, Lorraine has collected together, not only her own photos of Homecoming Queens, leaders of the annual Independence Day Grove Invasions of the Pines, for Invasions since 1994, but also drawn on the collections of others—photographers, historians, thespians, periodicals, organizations, and so on—to give us as complete a picture of the full 40 years of Invasions as is currently possible. There are some small gaps—some the earliest Homecoming Queens were not photographed at the Invasions they led—but the picture becomes more thorugh as the chronicling progresses toward the present day. Also included here are beautiful Fire Island Tide and Fire Island News newspaper cover photos of the Homecoming Queens, many of the best taken by Lorraine herself. Augmenting the book is a text by Sue Harrison, giving the history of the Invasion and putting each Invasion in a context by mentioning a few other highlights—in music, sports, politics, film, and television—of the year in question.
There are pertinent and intriguing photos of Invasion Founder and Coordinator, first and second Homecoming Queen, and current APCG President Thom "Panzi" Hansen from 1976 to the present. A photo of Panzi, costumed as a taxi, from the 1997 Invasion, adorns the book's cover. For a look at what she wore for Invasion 1976, we have an artist's rendering, by Brian Crede, as no actual photo appears to exist. There are also details here about the Homecoming Queen reigns that were the most unusual, particularly that of Scarlett Oh!, the only actually female HQ, Lorraine's spouse Joan Van Ness, in 1994, and also that of Good and Plenty, Angela Mercy and Freeta Chews, life partners at the time, who reigned jointly in 2000.
A disclaimer, as I gave when I wrote about "Celebrating the Heart of Cherry Grove: The Community House"—the new book includes photos both of me, at a number of the Invasions I attended since 2001—as the first Mr. Fire Island Leather, a member of the press, a participant periodically in reigning Queen's entourages from China's through Demi-Tasse's, and part of Panzi's Invasion security team—and by me, from the early '90s and from 2005. This personal investment notwithstanding, it's fun to revisit here the 30 years of Invasions to which I've been witness; to see what some of the earlier ones looked like; and to revel in what friends, those living and those now lost to us, wore on this day of celebration.
This is meant to be a précis of what the new book is, not of what it's not, and it's terrific the way it is. For myself, I would have preferred some annotation—some biographical information, beyond their names, if it exists, about who the early Homecoming Queens, following Panzi, were, and captions, perhaps, about who else we're seeing in the pictures—but not everybody would, and they will find the book just as meaningful and colorful without it. As I went through "Invasion of The Pines," I found myself mentally creating captions, contenting myself with identifying those I recognized, but wondering about the ones whose names I didn't know. But I realize that providing captions would have been a monumental, almost impossible, archival task, and not necessarily of interest to all, so maybe the book is better off without its publication waiting for the subjects' identifications by committee.
Autographing a copy of "Invasion of The Pines" for me and my spouse Joe Saporito, Lorraine wrote, "What a fabulous journey we have all been on," about compiling these 40 years of Invasion images. Please join us in this 'fabulous journey!' Buy the book at FIG, in downtown Cherry Grove, at 160 Main Walk and, for questions about it, email Lorraine at photocgfd@aol.com.