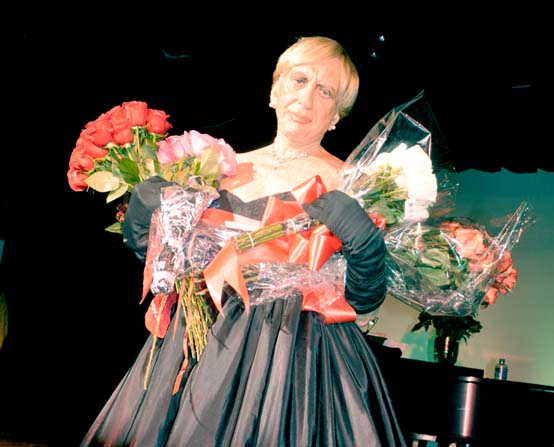 photo by Bruce-Michael Gelbert

Rose Levine curtain call

.......................................................................................................................................................................................
On June 27, "erev Gay Pride," Rose Levine, now in her 61st year on the Fire Island stage, gave a sold-out show at the historic Community House in Cherry Grove, billed as 'Rose Levine in "Old School Broadway,"' and delighted us anew with renditions of the Broadway music that she loves and helps to keep alive. Pianist John McMahon served as Music Director. George McGarvey directed. And Rose's longtime colleague singer Kenny Rahtz co-starred. We began by honoring Homecoming Queen 2015 Demi-Tasse with "God Save the Queen" and singing the Star Spangled Banner in recognition of the Supreme Court decision, the previous day, to make same-sex marriage the law of the land.
Unveiling a purported fifth grade report card that showed A-pluses for singing, dancing, and cooking, and low grades for the likes of arithmetic and spelling, Rose began with a zesty medley of "There's No Business Like Show Business," "Hey, Look Me Over," and "I Feel a Song Coming On." In "Too Many Rings around Rosie," she lamented many matches made, but none of them lasting, and further explored lack of success in love in a wry "Nobody Does It like Me." "Ten Cents a Dance" and "Where's That Boy with the Bugle?/If He Walked into My Life" were her next numbers, torchy and touching.
Rose and Rahtz celebrated their years of collaboration with "Together Again for the Very First Time" and looked woefully at the descent of "Class." Kenny sang "The Lady Is a Tramp," dedicated to Rose, with verses tailored to tell her tale. John sang and played "Beautiful Girls" and "If a Girl Isn't Pretty" and a disguised Rose, in a prosthetic nose, Groucho eyebrows, roller skates after a fashion, and a hat that Barbra Streisand wore in the film "Funny Girl," gave us "I'd Rather Be Blue." From Streisand-as-Fanny Brice, Rose moved on to Brice herself with a riotous Yiddish-flavored "I'm an Indian," complete with high kicks—she's still got it! An intimate, sensitive "People" followed. Rose's medley saluting Broadway consisted of "Lullaby of Broadway," "42nd Street," "Don't Bring a Frown to Broadway," "Every Street's a Boulevard in Old New York," "I'll Take Manhattan," and Kander and Ebb's "New York, New York," punctuated by many more high kicks.
Rose opened Act Two with proud and timely anthem "I Am What I Am," from "La Cage aux Folles." She probed past operatic aspirations in Victor Herbert's frothy "Art Is Calling Me" ("I want to be a prima donna, donna, donna"). Rahtz and Fran Reinhardt joined a butch Rose to set the scene for "Lesbian Love Story," from Andrew Lippa's "Wild Party."
Rose shared stories about Ethel Merman to introduce a wonderful tribute to Merman, for which Kenny joined her in considering "I Got Rhythm," "I Got the Sun in the Morning and the Moon at Night," "I Get a Kick out of You," "You Can't Get a Man with a Gun," "You'll Never Get Away from Me," "It's Wonderful," "It's De-lovely," "Simple Melody," "Anything Goes," "The Good Old Days Gone By," "Alexander's Ragtime Band," "This Is It," and competitive duets "I Hear Singing/You're Just in Love" and "Old Fashioned Wedding." Kenny's energetic "Sit Down, You're Rocking the Boat" came next.
Rose's affirmative and dramatic songs of survival "This Is My Life," "World, Take Me Back," and "The World Goes 'Round" brought us near the end of the evening, which Rose capped with her signature song "Rose of Washington Square," also sung as "Rose of Cherry Grove Fame." Standing ovations and floral tributes, richly deserved, came Rose's way at the conclusion. Long may she reign!