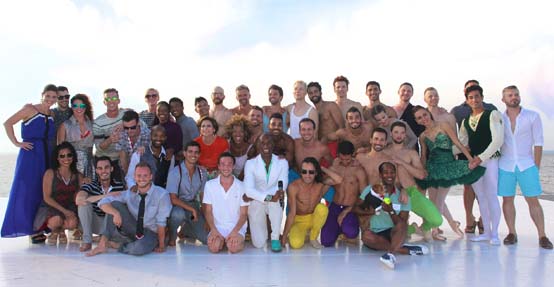 photo by Daniel Roberts

Fire Island Dance Festival 2015 cast

.......................................................................................................................................................................................
The 21st annual Fire Island Dance Festival, produced by and benefiting Broadway Cares/Equity Fights AIDS' Dancers Responding to AIDS (DRA), from July 17 to 19 in Fire Island Pines, raised $544,555 for AIDS services, including assistance with medications, counseling, meals, and financial emergencies, with a varied program of 10 dance pieces, performed to prerecorded tracks. Denise Roberts Hurlin, Sarah Cardillo, and Christopher F. Davis were the producers and dancer and DRA veteran Desmond Richardson hosted.
Ailey II's "Shaking Duet," from "Breakthrough," choreographed by Manuel Vignoulle and danced by Shay Bland and Terrell Spence, to a mournful, quasi-Baroque score by Mikael Karlsson, proved a poignant depiction of alternatives to "conventional behavior and morals," according to the program. In Broadway and television's Charlie Williams' unexpectedly uplifting "Rise," danced to Jason Mraz's "Rise" and Eric Richard's "Dance in the Graveyard," bare-chested hunks Jakob Karr, Adrian Lee, Chase Madigan, Raymond Matsamura, Adam Perry, and Logan Schyvynck attended and supported, sometimes literally, Karine Plantadit on her spirited journey to the afterlife. "And So It Is," choreographed by Dwight Rhoden to the first two movements of Johann Sebastian Bach's "Chromatic Fantasy and Fugue," was a lyrical solo for Clifford Williams, which recently had its premiere at the Bolshoi, and its recreation here was sponsored by, um, Mati Weiderpass.
The 10 Hairy Legs company's "Bud," choreographed by Stephen Petronio to Rufus Wainright's "Oh What a World," with quotes from Maurice Ravel's "Bolero," was cheerful and loving as danced by Alex Biegelson and Nicolas Sciscione. Vignoulle's "Shifting Shadow," performed at first in silence, then to electronic sounds by Alva Noto, depicted a frightened man, Isaies Santamaria, and his shadow, Vignoulle, making many identical or mirrored moves. Colorfully-costumed Mary Carmen Catoya and Kleber Rebello danced the pas de deux from "La Esmeralda," choreographed by Jules Perrot to Cesare Pugni's music, perhaps the most traditional piece performed, both Romantic and romantic, and epitomizing the phrase from "A Chorus Line," "Everything was beautiful at the ballet." "All by Myself," former 'Billy Elliot' Corey Snide lamented, backed by a corps consisting of Chloe Campbell, Marc Cardarelli, Jacob Guzman, Lindsay Janisse, Justin Keats, Adrian Lee, Kourni Lind, and Reed Luplau, in the ultimately humorous "Not For Me," choreographed by Al Blackstone to Bobby Darin songs, with a sexy locker-room quartet, a jazzy finale to "Mack the Knife," from "The Threepenny Opera," and even a part for well-behaved puppy dog Biscuit.