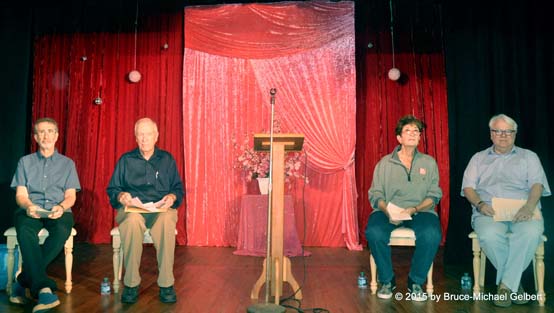 photo by Bruce-Michael Gelbert

Memorial Day Service speakers (left to right) Richard Schack, Roland Michely, Diane Romano & Thom "Panzi" Hansen
.......................................................................................................................................................................................
Grovites assembled at the Community House on Memorial Day, May 25, for a service organized by Roland Michely, who welcomed us by saying, "We are gathered together to remember loved ones, neighbors, and friends of Cherry Grove." Matt Baney, in the sound booth, played a recording of a contemplative piano piece by the Grove's Nina Bianchi.
In the spirit of the origin of the holiday, which, as Decoration Day, was a memorial to those who died fighting in the Civil War, Cherry Grove Community Association, Inc. President Diane Romano honored those in the armed forces and those we have lost—"We miss them every day"—and read a poem about the departed.
Arts Project of Cherry Grove President Thom "Panzi" Hansen recalled "with joy and fond remembrance" those of the past 40 years of Grove Homecoming Queens whom we've lost; saluted, in particular, lost friends Florence Leighton, Danny Garvin, and Gary Greene, and also read a poem.
Memorial Fund President Richard Schack cited Emily's "Goodbye, World" speech, from Thornton Wilder's "Our Town," about appreciating life, which passes too quickly.
Roland read the long list of those who've left us since last Memorial Day, including: the New York Times and Cherry Grove's John Brannon Albright; Joseph Annand of Annandale's; Hank Armstrong, of Silver Bells, and friend of Liberace; Kathleen Battilo, the late Laura Dunlop's partner, both of the Cherry Grove Fire Department; Steven Banhazey, Gloria's husband; Alan Brockman, longtime Fire Island Pines Property Owners Association President; David Bullock, Tim Webster's spouse, from Finistere—they married in Toronto in 2004, among the first Grove gay couples to do so; Silvia Cano, Ruth Freedner's late lover, who owned Surfside restaurant, where Sandcastle is today; Ruth Clark, Brian Clark's mother, Troy Files' mother-in-law; Marge Cozzolino, predeceased by longtime partner Saja Lee—Marge loved the Arts Project Casino and fishing; Lana A. Cocuzzo, waitress at Suzy Wrong's, upstairs at the old Monster, and performed in Arts Project show "Class/Reunion;" lawyers Robert Fisher and Frank Glinsky, the latter survived by Eric Grossman; Clara Eckdahl, Cathy's mother, Susan Freedner's mother-in-law; Danny Garvin, Stonewall veteran and activist, who was Panzi's housemate; Gary Greene, longtime partner of Luis "Luisa Verde" Valentin, performers and set designers; Jean Janas, mother of Jane; Murray Kass, owner of Lagniappe; Dr. Anthony Kavas, friend of Joe Anania; Florence Leighton; Warren William McGarvey, George's father; Lois McIntosh, longtime partner of Meryl Facterman, original owners of Cherry's and co-producers of the first Doctor's Fund Benefit shows; Dick Newman, longtime partner of the late Buddy Fagerstrom, survived by his later partner Sam McAllister, of the Golden Griffin; Bill Perez, veteran of many years of Arts Project shows; Judy Pezzuto, mother of Cherry Grove Pizza's Frank; George Rojas; and "Captain" Marty Ullman, who worked at Jumping Jacks and Island Breeze. Roland noted that it was the one year anniversary of George Oakley's passing. Also mentioned were several beloved pets that had passed away.
The gathering concluded with a Minute of Silence.