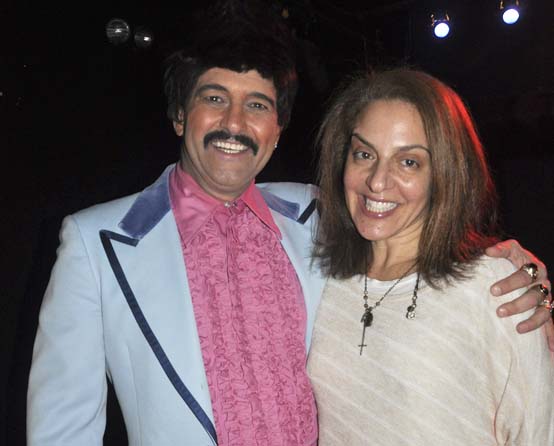 photo by Bruce-Michael Gelbert

Sonny Shores & Susan Campanaro at the Duplex

.......................................................................................................................................................................................
Sonny Shores, the slick persona of singer Ken Woodhouse, is a well-known figure in Cherry Grove and, complete with pink ruffled shirt, the many rings, the big hair, and literally, all bells and whistles on the tables, made a debut at the Duplex on January 25 with his hot new show "Sonny Shores Untucked—My Eyes Are Up Here!," directed and co-written by Susan Campanaro. Sonny's baritone sounded great; he was, as expected, Mr. Personality himself; and he told us quite a tale, indeed with song, in a show financed, he shared, by pawning his Golden Dildo Award.
"I'm Gonna Live Till I Die," Sonny asserted, in his optimistic opening number, penned by Al Hoffman, Walter Kent, and Manny Curtis, but "I'm Busted," he sadly lamented, almost immediately, in Harlan Howard's song, as he started to recount a story with all its gory ups and downs. "What's New Pussycat?" he queried, flirtatiously, suggestively, in Burt Bacharach and Hal David's title song for Clive Donner's movie, and related Richard O'Brien's "Toucha-Toucha-Touch Me," the song of sexual awakening from "The Rocky Horror Show," to—surprise!—an illustrious career in porno.
Life as an erotic film star went swimmingly for Sonny at first, as he joyously let us know with Barry Manilow's "Daybreak" and Bert Kaempfert and Milt Gabler's "L-O-V-E"—until, that is, the great waterbed accident and consequent collapse of his porn career, when, finding that "Ain't That a Kick in the Head," with a break for a white powdery pick-me-up, he might as well have become "Mr. Cellophane," like that invisible guy in Kander and Ebb's "Chicago." With "Love Potion number 9," courtesy of Leiber and Stoller, poor Sonny might have found a cure for what ailed him, but pressed to continue his tragic tale, he had to confess that, like Amy Winehouse, "You Know I'm No Good."
Rapping and taunting, "Sonny's back, back again," to the tune of Eminem's "Without Me" ("'cause we need a little controversy"), Sonny simultaneously melted down and stripped down to his shorts. So, "going where the weather suits my clothes," like a Florida-bound 'Midnight Cowboy,' finding that "Everybody's talkin' at me," Sonny pulled himself together, and now bent on realizing his ambition to become a Country/Western rock star, proficient on the Jew's harp, saluted his destination with a hearty "Viva Las Vegas," where we know he'll find success!