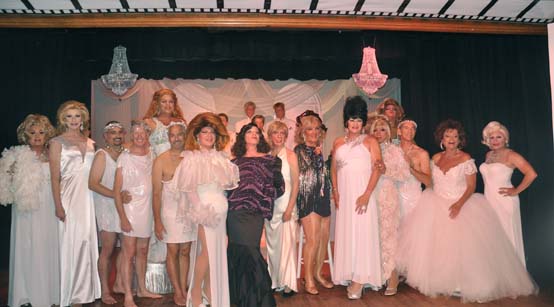 photo by Bruce-Michael Gelbert

Doctor's Fund Benefit cast

.......................................................................................................................................................................................
"Scenes from the Cutting Room Floor," the 18th annual Doctor's Fund Benefit show, presented by Toni Cesta, Jane Haber, and Hussein Tahan, in association with the Arts Project of Cherry Grove, and brilliantly conceived and directed by Donald Labohn, at the Community House on July 19, proved, as expected, a laugh a moment, as the cast explored twisted scenes that could have been included in favorite movies but, somehow, were not.
How homespun and sentimental would "I Remember Mama" have been, after all, if it included "Don't Tell Mama," performed by scantily and flashily-clad Kit Kat Klub girls, out of "Cabaret," portrayed by Angela Mercy, Shirley Shapiro, Demi-Tasse, Coco Love, and Donna Piranha? And what if "Jailhouse Rock" had had Ken Woodhouse more than suggestively addressing Eddie Galante as "my prison bitch," transformed from "cell mate" to put upon "soul mate," with Jack Roberts and Chuck Krouse as backup convicts? Or "Marriage Italian Style," obliging a weary Bella to come across with "Pizza Every Night," in a tarantella, plainly not about food, for her demanding spouse?
With Cobra as the tireless card girl, keeping us abreast of exactly what film we were considering, we proceeded to "Rosemary's Baby," a little horned devil with a tail, cherished, in "There's a brand new baby at our house," by Papa SallyAnn Piacentino, but rather less so by Mama Coco. Demi-Tasse as Marilyn Monroe as Lorelei Lee offered the safe sex message that seems to have been cut from "Gentlemen Prefer Blondes:" "Condoms Are a Girl's Best Friend." "Singing in the Rain" might just have needed Donna Piranha performing "It's Raining Men," while being pelted with anatomically-correct male blow-up dolls, which she knew just how to enjoy. "Interview with the Vampire" should perhaps have found a vampiric Ken Woodhouse waltzing with a barely conscious, but still able to grope, Demi to the tune of the Drinking Song from "The Student Prince," with Eddie, Urban Sprawl, and Jack as backup bloodsuckers.
Ginger Snapt played the title nanny in "Mary Poppins," but that "Spoonful of Sugar" had to have been some other kind of white powder, as it inspired her to clean the floor, walls, and steps quite frantically. In a vignette cut from "Marie Antoinette," Coco Love and Lola Galore became giddily accommodating "Ladies in Waiting," sporting precariously big hair and short skirts. In a scene that could have made it into "The Red Shoes," but didn't, Chuck menacingly ordered an unwillingly energetic Shirley to "Dance, Ballerina, Dance." "This Gun for Hire" might have had gumshoes Bobbie Green and Doreen Rallo, on assignment to "Chercher la Femme," finding Angela as the blonde bimbo, er, femme fatale, with thug, um, bartender Joanne Tavis. In this version of "Silence of the Lambs" waiter Jane Haber set, before Urban's cannibal Hannibal Lecter, the dainty dish of Eddie's head, lamenting "If I Only Had a Brain."
"White Christmas" would have positively glowed had it featured an all-star "Twelve Days of Christmas," performed by Jean Stapleton as Edith Bunker (Rose Levine), Liza Minnelli (Donna), Zsa Zsa Gabor (Charity), Joan Rivers (Lola), Elizabeth Taylor (Bella, of course), Dr. Ruth (Doreen), Bette Midler (Shirley), Lily Tomlin as Ernestine the telephone operator (Bobbie), Katharine Hepburn (Demi), Julie Andrews (Coco), Bette Davis (Sylvia Shapiro), and Barbra Streisand (Angela). A musical "Psycho" could perhaps have featured Ken serenading a meat cleaver-wielding Norman Bates quartet, made up of Chuck, Eddie, Urban, and Jack, with "Bye Bye Baby, Baby Goodbye." A lyric "Nuns Story" might have benefited from having Joanne, Bobbie, and Doreen as a trio of singing, dancing nuns, getting religion and bringing down the house with "Operator, Get Me Jesus on the Line." In a scene not in "Sunset Boulevard," Charity, as mad Norma Desmond, longed "(to get to) The Big Time," with vocal part performed by Linda Eder, who sang here just the previous week. In "The Wolfman," a lupine John Putnam sat down at the piano to accompany a smitten Rose Levine, singing "Don't Blame Me (for falling in love with you)" to him.
For the grand finale, an elegant Joanne serenaded the beauties of the company with "You Stepped out of a Dream," from "Ziegfeld Girl," but the procession of lovelies here featured Eddie, Chuck, Jack, Urban, and Ken as "heavenly gladiators," strutting their stuff in togas and other revealing costumes of antiquity.
Sylvia stayed largely in character as Bette Davis for her curtain speech, thanking tech and stage crew Matt Baney, Alison Brackman, Sherri Rase, Mike Romanelli, Arthur Cohen, Jane, David Medina, Maria Elena Passaretti, and Peg Ryan, as well as Richard "Urban" Cooley for hair and makeup, and George McGarvey for stage design and performance coordination.