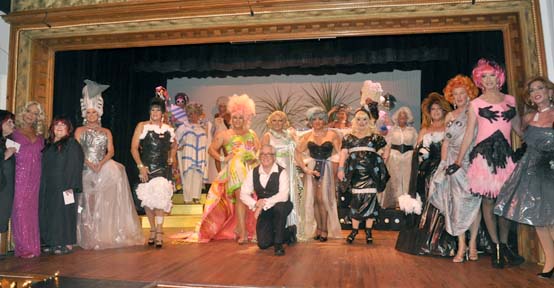 photo by Bruce-Michael Gelbert

cast of "Legends: Project Runway" in Home Depot high fashion

.......................................................................................................................................................................................
The latest in Matt Baney's series of Arts Project of Cherry Grove shows, at the Community House, celebrating Cherry Grove's Homecoming Queens (HQ), took place on August 31 and was billed as "Legends: Project Runway" and the climax was a high fashion show. Since you gotta get a gimmick, the one for this fashion show was that each participating HQ was given a $25 budget at Home Depot to create haute couture and the results were no less than amazing!
Matt not only created and directed the show, but also served as our own Tim Gunn, hosting the proceedings. The musical "Dreamgirls" inspired the first numbers. To the tune of "(We are) Dreamgirls," the Queens entered in order of the year of their reign, from Philomena (1990) to Shirley Shapiro (2013), mostly in elegant basic black, as slides of them out of drag flashed on a screen. They walked the runway, carrying red roses, as the audience cheered. Doreen Rallo and Bobbie Green stood guard at the proscenium. "(We are) Dreamgirls" was the opening song as well, with each soloist spotlighting herself with an industrial strength flashlight during her lines, and veterans Cobra (1997), China (2001), and Charity (2003) being lit by all, until they, and BeachDeBree (2010) began to twinkle. Then Bella, gorgeous in purple with feathers and later Matt's co-host, introduced herself with a verse of "(We are) Dreamgirls" and segued into an expansively emotional "And I Am Telling You I Am not Going," something of a signature tune.
Margo (2008) pranced as a circus elephant, sporting a starry, glittery, and fringed red, white, and blue vest. Robin Kradles (2012), wearing appropriate bling, sang "Diamonds Are a Girl's Best Friend," from "Gentlemen Prefer Blondes," and after reverent mentions of Tiffany's and Cartier's, added Robert Sorrell, Farrah Moans, and Larry Verba, the names of Imperial Court of New York jewelers. Coco Love (2006) and Urban Spawl (2009)-as-Richard Cooley offered a ribald Country-Western duet ("If you love me, you'll sleep on the wet spot"), which became a sing-along. Stunning in pink, a bejeweled Cobra, who, as a rule, does not do numbers, did "I Am What I Am," with Bobbie and Doreen standing by and a clap-along final verse, to a standing ovation. Shapiro Sisters Sylvia (1995, as Legs Labohn) and Shirley's spirited song-with-dance was "Rumania, Rumania" in Yiddish.
Scarlet Oh! (1994), the Grove's only biologically female HQ, got religion as 'Elder Price' in numbers from "The Book of Mormon" ("Hello," "I Believe," "I Am a Mormon)" and had us all waving our arms along with her, as if possessed. Ariel Sinclair (2002) offered a bawdy "Wizard of Oz" parody ("If I Only Had a Snatch," "My Crotch Began to Itch," "Ding, dong, I'll keep my schlong"). Leggy Angela Mercy (2000, as half of Good 'N' Plenty), in silver, got hot declaring, "Baby, I'm a Star" and working the runway.
And now for the collection: judges were the Olsen Twins (Ruth and Susan Freedner) and Heidi Klum (Demi-Tasse), and Donna"bella" Versace assisted. The winner would be sent to the Kutztown [PA] Fair to attend a quilting bee. Philomena achieved a classic look, complete with towering Marie Antoinette hairdo, with white and gray drop cloths. Scarlet Oh!'s look was derived from a painter's protective gear and drop cloths. Sylvia was lovely in trash bags and chicken wire. Angela adorned a pink leotard with rubber gloves. China wore a Home Depot apron, with a Home Depot tote bag as an accessory. Ariel embellished black trash bags with colorful duct tape. Charity gave us a nautical look, with a white shower curtain and toilet seat, decorated with blue duct tape stripes. Donna Piranha (2004) gave us black GLAD trash bags, with white trash bag frills. Coco was fierce in insulation material in white and colors. Lola (2007) used mirrored tiles and chains. Margo used a shower curtain, curtain rod and rings, and a mop. Urban appeared in a gray curtain. Beach DeBree was colorful in paint samples, with shiny paint can and brush as accoutrements. YaNeeda Dunes (2011) made white building material look delicate. Robin sported a colorful shower curtain. And Shirley made a hoopskirt of black trash bags, with white trash bag trim.
The judges gave their 'what were you thinking?' award to Ariel. Of the three finalists, Philomena, Charity, and Lola, Philomena was the winner, by audience acclaim.
What a fine, fun-filled final Arts Project show of the season! "Legends: Project Runway" was dedicated to the memory of Cherry Grove's late Archivist, Archbishop, and set designer extraordinaire Harold Seeley.