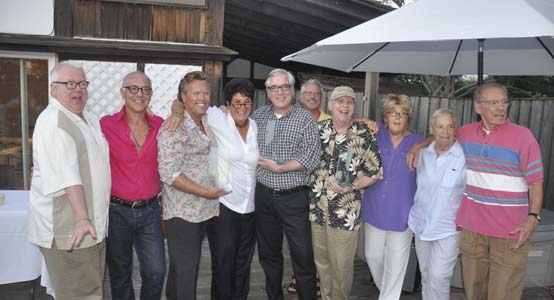 photo by Bruce-Michael Gelbert

CGCAI Honors (left to right) Thom "Panzi" Hansen, Frank Borsas, Michael Coffindaffer (holding award), Diane Romano, Matt Baney (holding award), Phil "Philomena" Stoehr, Carl Luss (holding award), Joyce Yaeger, Shirley Munnell & Jack Dowling

.......................................................................................................................................................................................
On August 18, at Heaven 'n' Earth, home of Cherry Grove Community Association, Inc. (CGCAI) President Diane Romano and her spouse, Patricia Goff, CGCAI presented its Cherry Grove Community Service Awards for 2012 to Matt Baney, for his service, as Community House tech person, to Grove organizations; Michael Coffindaffer, former President of the Arts Project of Cherry Grove and currently Grove Archivist; Carl Luss, "for his deep knowledge and commitment to community betterment;" and late Property Owners Association President Wallace (Wally) Forstell, for creating CGCAI, the charitable organization, to "have our money work for us," as Carl put it. Awards were presented by CGCAI Vice-President Joyce Yaeger.
Matt was introduced by Panzi and Philomena or, as he put it," This is no introduction—this is a roast!" In between jokes, they saluted Matt's work as Director of AIDS Services, formerly for St. Vincent's Hospital, in Manhattan, and now for Mt. Sinai; his participation, for 14 years, in Gay Men's Health Crisis' buddy program, to assist people with AIDS; and his work in Community House. Matt said, "To me, the theater's got a heartbeat." He added, "We are all the stewards of the past, but we're going to be the past real soon. [We're] history in the making." His saluted his sister 'techie,' Alison Brackman, as "my partner in crime."
Michael, hailed "for boundless creativity and vision for the arts in Cherry Grove," was introduced by life partner Frank Borsas, who said, "It all started with an invitation, to spin a wheel at Casino, from Luisa Verde," and continued, "Thank you for all hard work and leadership and for your vision of change." Michael thanked "my big brother Harold," the late Harold Seeley, whom he succeeds as Archivist, and spoke of "the overwhelming sense of community" in the Grove. "I believe in magic because of Cherry Grove—saying that it's full of fairies is stating the obvious," Michael said, and continued, quoting a friend, "Cherry Grove is full of unicorns." "We give our time, talent, and labor freely. We're the unicorns—we're creating the magic," Michael concluded.
Shirley Munnell, introducing Carl, said, "Carl has served the community for over 20 years and we would not have received a grant for our dock without him." She also acknowledged Carl's assistance in CGCAI's "receiving our latest grant to save the Community House." Carl paid tribute to Matt and Michael for their accomplishments, acknowledged Wally as "a mentor," and described the Grove as "how it would be if homophobia were removed from the world."
Audrey Hartmann, Wally's longtime friend, and Jack Dowling, his longtime life partner, remembered Wally, in accepting his posthumous award. Audrey hailed Wally for saving the endangered piping plovers, here in the Grove, and added, "If you were his friend, he was there for you for life." He was dedicated to "uniting all our organizations under one umbrella" rather than see them fighting with one another. Jack thanked Audrey for her words about Wally at the ceremony, Joyce for her written remembrance of him in the souvenir journal, and Bobbie Green and Doreen Rallo for their invaluable assistance during Wally's final illness.
Attendees at the Community Honors enjoyed cocktails; dinner; and desserts made by Philomena.