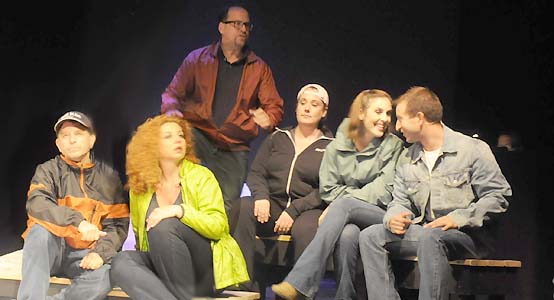 photo by Bruce-Michael Gelbert

Steven Alan Black, Nicole LaFountaine, Tom Gamblin, Cynthia Murray Davis, Anna Ty Bergman & Ryan Bell

.......................................................................................................................................................................................
A revival of composer and lyricist William Finn and book writer James Lapine's "Falsettos" was the Fire Island Pines Arts Project's (FIPAP) brilliant choice of Labor Day Weekend musical, with its themes of loving, coming out, forming extended alternative families, and dealing with AIDS during the first years of the crisis. "Falsettos" opened at the Brandon Fradd Theatre, at Whyte Hall Community Center, on August 31 and the first of three performances is the one considered here.
The characters of "Falsettos," which is made up of two shorter musicals, "March of the Falsettos" and its sequel "Falsettoland," are arch and neurotic, true-to-life, and ultimately lovable. They are homosexual, heterosexual, or confused, they experience life-changing events, and they grow. For most of the evening, we smile at their foibles, or at our own, and when matters grow dark, it's only temporary, until the cataclysm of AIDS arrives and loss leaves us sobbing, as many of us remember what we went through. As directed and choreographed by Joe Barros and designed by Carl Tallent (sets) and Kevin Levis (lighting), "Falsettos" was performed mostly on a thrust stage, jutting out from the main stage, with the audience on three sides of it, which meant that key scenes were enacted directly in front of us, drawing us into the action and making us identify with its characters even more.
In "Falsettos," Marvin (Tom Gamblin), husband of Trina (Nicole LaFountaine) and father of about-to-be-bar-mitzvah boy Jason (Sammy Grob), comes out and becomes Whizzer's (Ryan Bell) lover, sometimes ex-lover; Marvin's psychiatrist Mendel (Steven Alan Black) marries Trina; and lesbians-next-door Dr. Charlotte (Cynthia Murray-Davis) and caterer Cordelia (Anna Ty Bergman) complete the extended family. They bicker, they flirt, and they sing complicated songs and, under the music direction of Eric Martin, make them sound easy. At just about the time that we realize that Marvin is treating Whizzer as badly as he treated Trina, Marvin's anger boils over and he hits Trina. She collects herself—she is her own person after all—but pressing matters still lie ahead—there's Jason's bar mitzvah to plan and, simultaneously, AIDS invades the family circle, when Whizzer falls ill. The solution, proposed by 14-year-old Grob's 13-year-old Jason, who often seems the wisest one on stage, is to celebrate his bar mitzvah in his friend Whizzer's hospital room! It's a wacky idea, to be sure, but the sobs are just beginning.
"Falsettos" is mostly an ensemble piece, but is not without solos that allow its cast members to shine. Outstanding numbers included the wistful love song "What More Can I Say," in which Gamblin succeeded in commanding our full attention, despite the presence nearby of a nearly naked, comely Bell; the touching quartet "Unlikely Lovers," in which the male and female couples examined their own relationships, as well as the close friendship of the four of them; and echoing the opening quintet "Four Jews in a Room Bitching," the riotous "Baseball Game" ("We're watching Jewish boys/Who cannot play baseball/Play baseball)." LaFountaine's moments to shine were her vivid "I'm Breaking Down," her lament/melt-down, and "Holding to the Ground," in which she showed that, though her expectation of a traditional marriage and family was shattered, she had grown to accept the situation that she was dealt. Bell's Whizzer wrenchingly came to terms with his fate in "You Gotta Die Sometime," an angular waltz that could almost have come from the pen of Gustav Mahler. Grob's Jason tried to puzzle out the mishugass of the adults around him in "The Fight" ("What have I done that/They'd ruin my bar mitzvah?"), but matured into one himself in "Another Miracle of Judaism," which found him praying to God to "make my friend stop dying." Although nominally a quartet, "Everyone Hates His Parents" emerged as Black's Mendel's bravura vaudeville star turn. Murray-Davis' Dr. Charlotte and Bergman's Cordelia made their mark in "Something Bad Is Happening," in which the tone of "Falsettos" turns inexorably grave, as they announced the arrival of AIDS. Gamblin and Bell's quiet love song "What Would I Do (if I had not met you)" served as the apt way that the musical dealt with its devastating conclusion, making the floodgates open once again.
Like the Holocaust, the early days of AIDS must never be forgotten, and a theatre piece like "Falsettos" effectively reminds some of us of what we once went through and helps inform others about what that era was like. This was a good time to become reacquainted with this invaluable work.